Calendars
Spiral bound and completely custom, make each month of the year a little more memorable.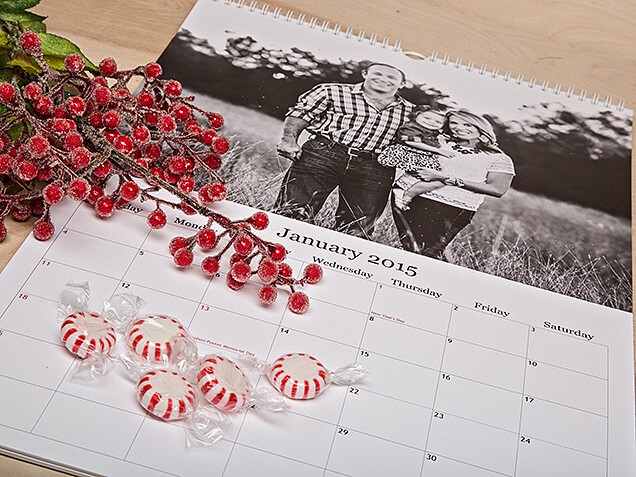 Product Details
Pricing

Calendars
1
$20.00
2-10
$19.00

Sizes
11x8.5" or 12x18"
Paper Types

Signature or Pearl Paper

Options
Customize special dates with images and important events
Greet every month with a smile with a personalized Calendar from Mpix.
Celebrate your favorite moments all year long with a personalized Calendar.
Our Photo Calendars come in either a Center Fold (11x8.5") or Binding on Top (12x18") style to fit a desk, wall or wherever there's a need for a bit more organization and a lot more smiles. Pick a photo for every month - use them to celebrate birthdays, anniversaries, holiday cheer and any other special moments or memories tied to that time of year.
Brenda Cellmer-Monda
I just received my calendar in the mail and I am completely amazed! The color, the size, the quality, the speed of service and the ease of creating this. I am a huge believer in traditional scrapbooking but your company may have turned me digital! Thanks for making my son's Senior Pictures come to life and allowing me to share his greatness with family.
Mpix
Awww you're making us blush. Thank you Brenda!
Ali Mick
Really want to add birthdays - where is the Customize Option??? I've tried both center fold and binding on top varieties - neither is giving me the option to add special dates. Please help!
Mpix
Hey Ali! Are you still experiencing issues ordering your calendar? Our customer service team can walk you through this process - their e-mail address is customerservice@mpix.com. Thanks!
Gabriela Condrea
Dear MPix team, I am looking for a printing company to set up a small product line that my supporters would be able to order directly from. In 2012, I packed my car full of copies of my book WHEN 1+1=1 and drove around the U.S. and Canada promoting and presenting it, teaching tango, and exploring connection, visiting 70 cities in 6 months. I filmed a series of video interviews and took tons of pictures along the way. It would be great to have a product line inspired by my journey using photos I snapped during my trip to give people the option to support the production of the interview series: select prints, a 2015 calendar, and possibly postcards. Is there a way to set up a little "store" through MPix and point people directly to your site if they wish to purchase something to support this project? Are you set up to track and deliver royalties? Thank you! Gabriela www.GabrielaCondrea.com
Mpix
Hey Gabriela! We partner with a custom storefront service called Zenfolio. This lets you sell products that are printed through our service. You can learn more about this option at http://www.zenfolio.com/. Thanks!
Mike Bons
I want to create a center-fold calendar using images I have already uploaded to my zenfolio account, however I do not see this option when I go to "buy" an image. My only choice is to buy a photo calendar. Can this be done through my zenfolio?
Mpix
Hey Mike! Zenfolio's customer service team will be able to help you solve this issue - please use the form here to contact them - https://secure.zenfolio.com/zf/contact.aspx
Mike Bons
Mpix Thank you
Dee Leggett
Do you have a template for a book-style photo weekly calendar like a Sierra Club Day book. One style that is year specific and one option that is just either day of week based or only day of month based that are not tied to the specific calendar year.
Mpix
Hey Dee! We do not have a template like this at this time. Thank you for your question.
Suzy Poock
I'd like to do a calendar like Melissa Cole referenced below, where I have my own calendar to import, so I want to import a 12x18 image to be printed on a blank calendar (not using your grid). Are we still able to call to do this? I need an idea of how long I will need to be on the phone. =) Is this something you'd consider just adding to the website for ease? I make several of these each year.
Mpix
Hey Suzy! You would need to e-mail our customer service team to have them help you out with this. Their e-mail address is customerservice@mpix.com. We will also contact our product development team about adding a custom option. Thanks for reaching out to us!
Suzy Poock
Mpix Thank you!
Kristina Fedchenko
Hi is it possible to get a calendar with poems printed on top of the pictures or next to pictures in Cyrillic characters? Not English, but Eastern European?
Mpix
Hey Kristina! We do not have a text editor on our site at this time, so you would have to add the poem to the picture using the text tool in a photo editing program (like Photoshop) before uploading the image to our site. Thanks!
Sarah Dobson
Do you post to Australia? And what is your turn around time?
Mpix
Hey Sarah! We currently do not ship to Australia, only the US and Canada. Thanks!
Andrea Treinen Hintz
is it possible to choose the number of photos per page?
Mpix
It sure is, Andrea. When building your Calendar by dragging and dropping images onto the page, left click on them and resize to get the correct size. You can also move the image nodes anywhere or delete image nodes. You can click the Customize button to add borders or more text to the page, as well.
Shivkumar Chandrasekaran
Mpix: This does not work. I tried it in both Chrome and Firefox. When I left-click I only get the "Edit Photo" window, which only allows me to zoom in (not zoom out), pan, and rotate. Am I missing something?