Canvas Gallery Wraps
Turn your memories into a high-end art piece worthy of any museum wall.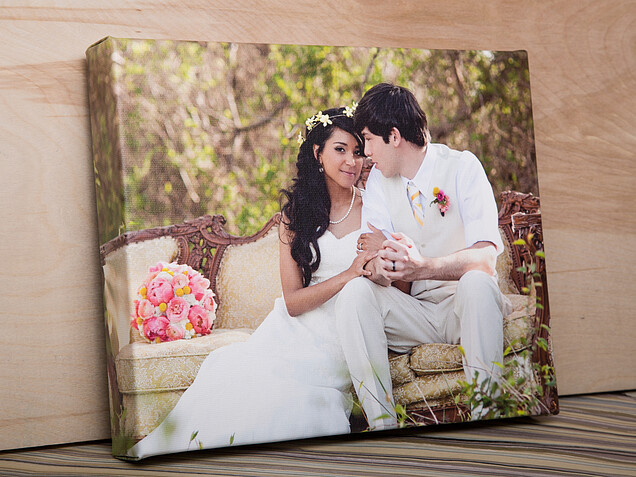 Product Details
Pricing

| | |
| --- | --- |
| 11x14 | $70.00 |
| 16x20 | $90.00 |
| 16x24 | $100.00 |

Sizes
8x10", 10x10", 11x14", 10x20", 16x16", 10x30", 16x20", 16x24", 20x20", 20x24", 20x30", 24x30", or 24x36"
Material

Printed on fine art canvas and wrapped around a 1.5" stretcher frame

Important

To ensure proper positioning of your image please refer to the preview tab when ordering Gallery Wraps

Retouching

Remove slight imperfections from your images

Processing Time
2-3 business days in lab + shipping
Canvas Gallery Wraps by Mpix Home Decor: Discover your inner artist.
Decorate and refresh your walls with a personalized Canvas Gallery Wrap from Mpix.
Transform your favorite photos and create a gorgeous piece of unique wall art for your home. Have your photos printed on professional quality canvas and then gallery-wrapped around a 1.5" wooden stretcher frame. Delivered in just a few days, your canvas print arrives ready-to-hang right out of the box. Choose from a variety of dimensions to find the perfect fit for your photos, and for your walls.
Your pictures are already priceless; now turn them into authentic art with Canvas Gallery Wraps from Mpix.
Margaret Burlingham
Is it possible to order canvass prints without the frame?
Mpix
Hey Margaret! We do have our Canvas on Matboard option! When you have the print size that you desire, click the "Add a mount or frame" option in the shopping cart and select the canvas on matboard option. Thanks!
Lisa Beth Williford
Can you print any panoramic larger then 10x30 in any format? I have a very large wall space to fill
Mpix
Hey Lisa, we apologize, but we do not have any single format with a larger panoramic size. However, if you have more than one photo to print, a collection of gallery-wraps always draws incredibly positive feedback!
Holly Timmons Terry
I would like to get a 3 panel piece, is that possible? Do you have sizes for that specifically? or do I suggest my own size
Mpix
Hey Holly! Our customer service team can help you work through the details of this order. Please e-mail them at customerservice@mpix.com. Thanks!
Lisa Beth Williford
I have a panoramic photo I want printed on canvas. Can you do it?
Mpix
Hey Lisa! We have a 10x30 Mounted Canvas or Canvas Gallery Wrap option that would work great with your panoramic photo!
Mpix
Lisa I apologize - you can do a 5x30" print mounted on canvas, or a 10x30" gallery-wrapped canvas print. Thanks!
Lauryn Levin
Can you do 30x30? Looking for a larger square than 20x20
Mpix
Hey Lauryn! Our sister company MpixPro has that size available. Check them out at http://www.mpixpro.com/PrintPapers.aspx. Thanks!
Maira Ferreira
Hi! I'm trying to do the 30x30 but the MpixPro doesn't let me order since I'm not a pro. Is there any other way?
Cindy King Baczkowski
Where do I find the canvas on mat board option? I saw it before I signed in but cannot find it now… should I call instead?
Mpix
Hey Cindy! You can add the canvas + matboard option in the shopping cart after you have selected your desired print size with the "Add mount" option. Thanks!
Heather Kennard Flanagan
Mpix , I'm having the same trouble. I don't see an option for the canvas print. I do see the add mount option, and add framing, but no canvas. Help please!!
Mpix
Heather Kennard Flanagan I apologize for the confusion - you will need to add a standard photographic print to the shopping cart, then select "Add a mount" and select "Canvas on Matboard". Thanks!
Heather Kennard Flanagan
Mpix the only option that I can find when I click "Add Mount or Frame" is "Single Weight Matboard". I must be missing something but still can't find it anywhere.
Mpix
Heather - please e-mail our customer service team at customerservice@mpix.com so they can help you figure out this issue. Thanks so much!
Carol Campbell Locey
Can you print black edges on the canvases?
Mpix
Hey Carol! Please e-mail our customer service team at customerservice@mpix.com for help with completing this order. They are super helpful - and will respond very quickly. Thanks!
Keri Redanz
What is the lifespan of a gallery wrap?
Mpix
Hey Keri! Our Canvas Gallery Wraps are archival quality and will last in normal conditions for 100+ years. Thanks!
Ryan Dearth
Can I order just a canvas print, unmounted?
Mpix
Hey Ryan! We do not offer a canvas print that is not mounted or gallery-wrapped at this time. We apologize for the inconvenience. Thanks for your question!
Karey Williams
How long do these take to get back?
Mpix
Hey Karey! We will ship your canvas gallery wrap within 48 hours, after that it just depends which shipping option you choose. We always suggest picking FedEx to ensure faster delivery. Thanks!