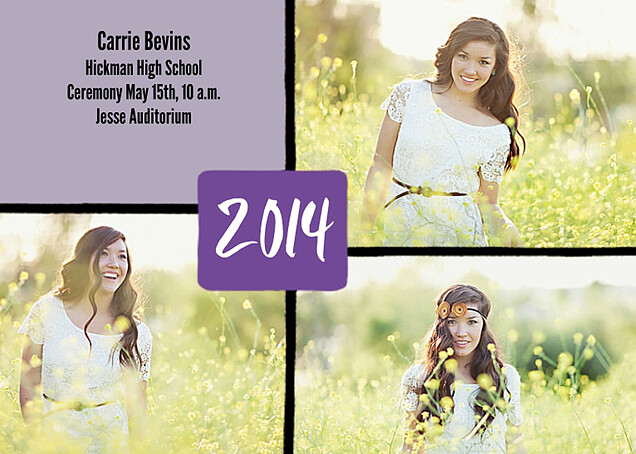 Front
Others Like This
Triple Pane Purple
1 Canoe 2
Flat Cards,
Starting at $1.00
Triple Pane Purple Square
1 Canoe 2
Flat Cards,
Starting at $1.00
Magnets Details
Pricing

4x5.5 (25 per set)
1 set
$34.50
2-5 sets
$32.00
5x7" (25 per set)
1 set
$37.50
2-5 sets
$35.00

Please note: Receive multiple set pricing when ordering multiple sets of the same Magnet. Pricing structure does not apply when ordering multiple sets of multiple Magnets.
Sizes
4x5.5" or 5x7"
Material

Printed on eco-friendly paper with magnetic backing

Sets
Order in sets of 25
Design Features
Drag and drop your image into one of our stylish designs
Envelopes
Free envelopes (optional with order)
Boutique Packaging

Gift wrap your order in our upscale packaging
Graduation Invitation and Announcement Magnets by Mpix: Triple Pane Purple
Our Triple Pane Purple Graduation Magnet from Mpix features three photos of your graduate with a lavender upper left tile filled with your text. This Graduation Magnet also contains a plum purple central box with text for the graduation year.
Order your Photo Magnets in a 4.5x5" or 5x7" and in sets of 25. Simply choose your occasion, upload your photo into the design of your choice and in a few days receive your shipment complete with complimentary envelopes - it doesn't get much easier than that!
Whether it is the holidays, a wedding (don't forget to check out our matching sets of wedding stationery!), a birth announcement, birthday, or a graduation, we have tons of Magnet designs for you to find your favorite and personalize with your favorite digital photos.
A personalized photo magnet from Mpix always looks great on display and will set you apart from all the drawings and lists that call the fridge home. Get started ordering yours today!