S

tandouts

Make your photos pop with a simple yet stylish foam-mounted Standout from Mpix.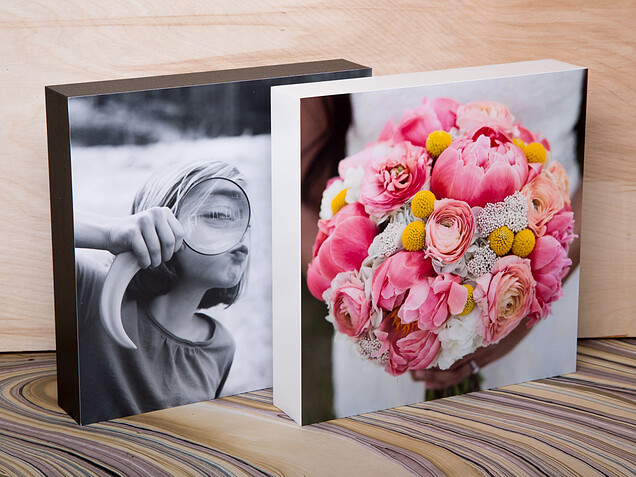 Product Details
Pricing

| | |
| --- | --- |
| 8x10 | $30.00 |
| 8x12 | $40.00 |
| 11x14 | $55.00 |

Sizes
8x8", 8x10", 8x12", 10x10", 11x14", 16x20", 16x24", 20x20", or 20x30"
Paper Types

E-Surface, Metallic or True Black & White Photo Paper

Coating

Add Lustre Coating for protection

Mounting

Print mounted to 1.5" thick foam board in black or white trim

Retouching

Remove slight imperfections from your images

Processing Time
1-2 business days in lab + shipping
Important
Borders are not recommended on Standouts. Prints will be trimmed slightly and border cannot be kept even. When placing text or logos on your image please keep a minimum of ½" from the edge of the file.
Foam Mounted Photo Standouts by Mpix Home Decor: Discover your inner artist.
Home Decor has never been easier. For the home decorator searching for that sophisticated and contemporary look, try a Foam Mounted Standout by Mpix. Printed on any of our three professional quality papers (E-Surface, Metallic or True Black and White) and mounted on a black or white finished 1.5" foam board, Standouts add a fresh, modern feel wherever they hang.
Our Standout sizes range from 8x8" to 20x30" and can be protected with Lustre Coating to keep it looking brand new for years to come. Mpix Photo Standouts are delivered in just a few days, ready-to-hang out of the box.
Upload your digital photos, select your preferences and watch your walls come to life with just a few clicks. It's so easy you just might think it's magic.
Sandy Shook
I ordered a Standout that I absolutely love. Unfortunately when it arrived there was a ding on the upper edge of the Standout. I contacted customer service with a photo of the damage, and by the next day, a replacement was on the way! Mpix your customer service rocks and I am letting everyone know you are the place to go for prints.
Mpix
Thanks Sandy!
Jessica Lynne Mundt
I'm trying desperately to find where on this site I can order a print on canvas on matboard. Can anyone help?
Mpix
Hey Jessica! You would go through the print ordering screen from the Photo Prints page. When you have the print you are wanting to mount, select "Add A Mount" in the ordering screen and then choose "Canvas on Matboard" as your mounting option. Thanks!
Tom Reichert
Is there mothers day sale pricing on standouts ?
Mpix
Hey Tom! We currently do not have any sales for standouts specifically, however there are coupon codes available on sites like RetailMeNot that could help with your order. Thanks!
Dwaine Gipe
Yea Hoooo! Excellent Metallic print and physical mount. I need to know how wide the hidden edge is and if hanging wire holders may be screwed to it.
Mpix
Hey Dwaine! The standouts are 1.5" thick, and you can add wire holders to the mounting. They are very lightweight, some of our customers use adhesive stickers to hang them as well. Thanks!
Daria Kuzmiak-Armstrong
What is the best way to hang the standdouts?
Mindy McDonald
I use the velcro sticky tabs to hang mine. It works well. I use four for each picture.
Nicki Metcalf Pliodzinskas
I can't seem to find the photos with white borders to order. Where are those? Thanks!!!
Mpix
Hey Nicki! You can add a border to your prints in the shopping cart. Thanks!
Kimberly Wallace Carns
Can I do a collage on a standout? I have a series of pictures from a smash cake session I would like to put on a standout. Thanks
Mpix
Hey Kimberly! We do not have a collage builder on our site at this moment, however if you create a collage using a photo editing program/website and upload the finished file to our website we will print it for you. Thanks!
Elizabeth Campbell
Can this come in a panoramic pic?
Mpix
Hey Elizabeth! I apologize, however we do not carry any panoramic sizes in our standouts at this time. Thank you for the question!
Amber Wilson
is there any way that it comes in a 4 x 6
Mpix
Hey Amber! I apologize, however we currently do not make standouts in a 4x6". Thanks for your question!
Michelle Patrizio
Do you think you would ever add a 12x12 or 16x16 size?
Mpix
Hey Michelle! We will pass this suggestion along to our product development team. Thanks!
Devin Shanthikumar
Mpix I second the 16x16 recommendation.
Kris Renee Murphy
12x12 & 16x16 would be awesome!
Colleayn Klaibourne
I too would like 12" x 12" or 14" x 14"
Bill Sanders
Would really like to see some square sizes on this product!