S

tandouts

Make your photos pop with a simple yet stylish foam-mounted Standout from Mpix.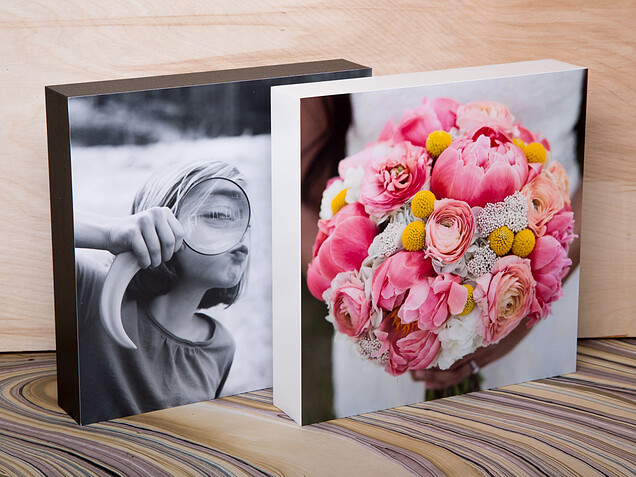 Product Details
Pricing

| | |
| --- | --- |
| 8x10 | $30.00 |
| 8x12 | $40.00 |
| 11x14 | $55.00 |

Sizes
8x8", 8x10", 8x12", 10x10", 11x14", 16x20", 16x24", 20x20", or 20x30"
Paper Types

E-Surface, Metallic or True Black & White Photo Paper

Coating

Add Lustre Coating for protection

Mounting

Print mounted to 1.5" thick foam board in black or white trim

Retouching

Remove slight imperfections from your images

Processing Time
1-2 business days in lab + shipping
Important
Borders are not recommended on Standouts. Prints will be trimmed slightly and border cannot be kept even. When placing text or logos on your image please keep a minimum of ½" from the edge of the file.
Foam Mounted Photo Standouts by Mpix Home Decor: Discover your inner artist.
Home Decor has never been easier. For the home decorator searching for that sophisticated and contemporary look, try a Foam Mounted Standout by Mpix. Printed on any of our three professional quality papers (E-Surface, Metallic or True Black and White) and mounted on a black or white finished 1.5" foam board, Standouts add a fresh, modern feel wherever they hang.
Our Standout sizes range from 8x8" to 20x30" and can be protected with Lustre Coating to keep it looking brand new for years to come. Mpix Photo Standouts are delivered in just a few days, ready-to-hang out of the box.
Upload your digital photos, select your preferences and watch your walls come to life with just a few clicks. It's so easy you just might think it's magic.
Hilary Puskar Prokop
Oh. One hole in the middle would be a lot easier than having to line up two nails perfectly for two different holes. Seems to create a much higher chance of being hung crookedly
Mpix
Thank you for the suggestion Hilary, we will pass this along to our product team. Thanks!
Kera Rennert
I totally agree with Hilary. While I love the look of the standouts, I have had major problems hanging them straight on the wall. One hole would be MUCH better.
Sandy Shook
I ordered a Standout that I absolutely love. Unfortunately when it arrived there was a ding on the upper edge of the Standout. I contacted customer service with a photo of the damage, and by the next day, a replacement was on the way! Mpix your customer service rocks and I am letting everyone know you are the place to go for prints.
Mpix
Thanks Sandy!
Hilary Puskar Prokop
how do you hang this? I rec'd a standout with four holes in the back and I'm not sure how to hang this- I don't see anything to which I could attach a wire.
Mpix
Hey Hilary! The holes are meant to be mounted on screws/nails on the wall. Thanks!
Nicki Metcalf Pliodzinskas
I can't seem to find the photos with white borders to order. Where are those? Thanks!!!
Mpix
Hey Nicki! You can add a border to your prints in the shopping cart. Thanks!
Jennifer Moore Smith
how do i hang my awesome standout on a wall??
Mpix
Hey Jennifer! The back comes with pre-drilled holes to mount on nails or screws. Thanks!
Daria Kuzmiak-Armstrong
What is the best way to hang the standdouts?
Mpix
Hey Daria! They come with pre-drilled holes for mounting on screws/nails. Thanks for your question!
Mindy McDonald
I use the velcro sticky tabs to hang mine. It works well. I use four for each picture.
Amber Wilson
is there any way that it comes in a 4 x 6
Mpix
Hey Amber! I apologize, however we currently do not make standouts in a 4x6". Thanks for your question!
Michelle Patrizio
Do you think you would ever add a 12x12 or 16x16 size?
Mpix
Hey Michelle! We will pass this suggestion along to our product development team. Thanks!
Devin Shanthikumar
Mpix I second the 16x16 recommendation.
Kris Renee Murphy
12x12 & 16x16 would be awesome!
Colleayn Klaibourne
I too would like 12" x 12" or 14" x 14"
Bill Sanders
Would really like to see some square sizes on this product!
Clark Frogley
Hi. is it possible to get a custom size in the standout prints. I need one that is 6 w by 12 H and any resizing really distorts the image. Is it possible? clark
Mpix
Hey Clark! I apologize, however we are not able to do custom sizes with the standouts at this time. Thanks for your question!
Alfredo Free
could you guys do 48x48?
Mpix
Hey Alfredo! Unfortunately we do not print that large at this time. Thank you for the question!