P

roof

P

ortfolios

Showcase your best work in the most professional way possible, offered in a variety of sizes and layouts.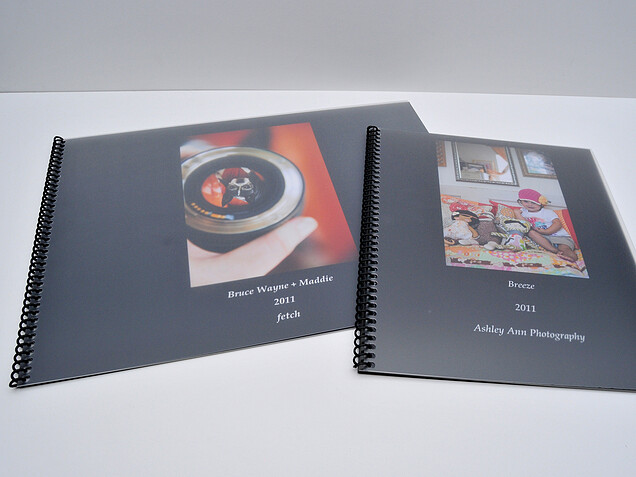 Product Details
Pricing

Proof Portfolio, 8x10
E-Surface
$1.60
Metallic
$2.00
Proof Portfolio, 10x13
E-Surface
$2.50
Metallic
$3.09

Sizes
8x10" or 10x13"
Paper Types

E-Surface or Metallic Photo Paper

Coating

Add Lustre Coating for protection

Layout

4, 6, 8, or 12 images per page

Background
Choose a white or black background
File Names
Original uploaded file name will be printed under each image, or image can be printed with no file name
Binding
Black spiral bound
Boutique Packaging

Gift wrap your order in our upscale packaging

Retouching

Remove slight imperfections from your images

Processing Time
1-2 business days in lab + shipping
Mpix photo Proof Portfolios. A professional presentation for your photography.
Mpix has your back when it's time to showcase your best work. Our Proof Portfolio books provide the ideal presentation to professionally display your photo proofs.
Proof Portfolios are finished with a black or white background and spiral-bound. Have your photography portfolio printed on either E-Surface or Metallic paper, guaranteeing your photo proofs will sell your strengths with crystal clear Mpix color quality. Decide between four, six, eight or 12 images to a page. Choose either the 8x10" or 10x13" portfolio to effectively display your photo proofs and protect your prints with a Lustre Coating so little fingerprints don't hide the beauty of your photos.
In just a few clicks get a big head start on your photography projects with a professionally made Proof Portfolio highlighting your favorite photo proofs. The rest is in your hands.
Alana Milner Murphy
These are amazing! I can't wait to make one!
Jennifer Crowder
HI! Just curious (sorry if this has already been asked) if the proofs are color corrected?
Mpix
Hey Jennifer! You have the option of having color correction or not when you are in the checkout process. Select "Do Not Color Correct" if you do not wish for us to color correct your proofs. Thanks!
Jessica Guhl Hall
Hi I have a quick question. For the proof portfolio prices is it like $2.00 per page or is it per photo? I'm kind of confused.
Mpix
Hey Jessica! Depending on the size of the portfolio, and the paper type, it is around $2.00 per page and you have the option of either 4, 6, 8, or 12 photos per page. Thanks!
Regina Johnson
I'm interested in getting my picture printed here and would love a proof portfolio to show off my work not sure how to go about it.
Mpix
Hey Regina! Our proof portfolios are located here: http://www.mpix.com/products/business/proofportfolios. Thanks!
Wendy Hemry
Trying to make a portfolio, I want to delete some of pictures I downloaded for it. I check the picture and click delete and it is not deleting it so not sure what to do.
Mpix
Hey Wendy! Our customer service team will be able to help you, please e-mail them at customerservice@mpix.com. Thanks!
Treya Lynn
Are the photos automatically chosen for each page, or can you choose which ones go on which page? Do you have to do a specific number per page, or say 1 on one page, and 4 on the next? Just wondering if I should go this route for a small school portrait shoot (one child/family per page) or if I should just order proof prints. Thanks!
Mpix
Hey Treya! The images are printed in the order that they are placed in the file, and they are given the same name as well. The number of photos per page stays the same throughout the book. If you need any assistance throughout the ordering process, our customer service team can help you complete your order, their e-mail address is customerservice@mpix.com. Thanks!
Krystal Hague
How many pages can be put into one of these spiral bound proof portfolios?
Mpix
Hey Krystal! The max number of pages per proof portfolio is 75, if you need more pages we will seperate it into two volumes. Thanks!
McKinley Grimm Photography
Hi! How do I edit the Proof Portfolios? Thanks!!
Mpix
Hey McKinley! Please e-mail our customer service team with the issue you are having - their e-mail address is customerservice@mpix.com and they are super fast and super helpful. Thanks!
Angela Storbeck Reimer
I had taken on the task of doing my daughter's senior pics. I am at loss as to where to get proofs of all the pics we have done, so we can make a decision as to what pics we like the best. I have about 120 pics. I have some that need retouching and adjusting. If it would cost a lot to do that, then I will find other ways to accomplish this task. How can you help me?
Mpix
Hey Angela! For proofs I would recommend ordering our standard color-corrected 4x6 prints on E-surface paper. These will start at $0.29 a print. We adjust color on our prints for free. These prints will arrive in 2-3 days after you order, and from there you can choose your favorites for larger sizes/wall art products. We do offer retouching services - you can see our options here: http://www.mpix.com/products/prints/retouching. If you have any more questions our customer service team can help you through the ordering process - their e-mail address is customerservice@mpix.com. Thanks so much!
Angela Storbeck Reimer
Thanks I'll check it out! Four people suggested Mpix
Melissa Van Slyke Tvrdy
Hello! Are photos printed on front and back of each page, or just the front? Thank you!
Mpix
Hey Melissa! Which product are you referring to?