P

roof

P

ortfolios

Showcase your best work in the most professional way possible, offered in a variety of sizes and layouts.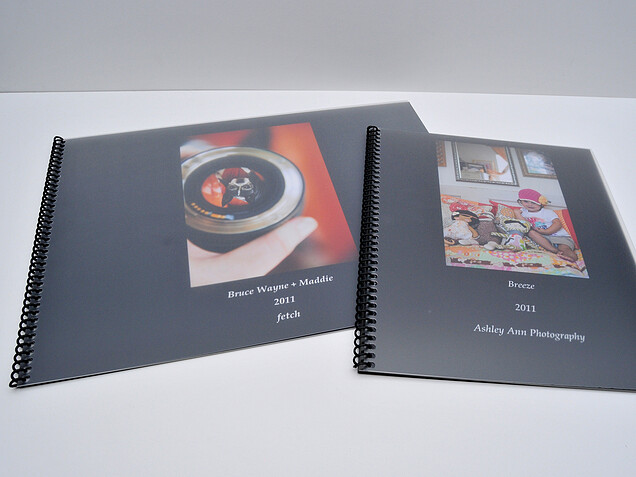 Product Details
Pricing

Proof Portfolio, 8x10
E-Surface
$1.60
Fuji Pearl
$2.00
Proof Portfolio, 10x13
E-Surface
$2.50
Fuji Pearl
$3.09

Sizes
8x10" or 10x13"
Paper Types

E-Surface or Fuji Pearl Photo Paper

Coating

Add Lustre Coating for protection

Layout

4, 6, 8, or 12 images per page

Background
Choose a white or black background
File Names
Original uploaded file name will be printed under each image, or image can be printed with no file name
Binding
Black spiral bound
Boutique Packaging

Gift wrap your order in our upscale packaging

Retouching

Remove slight imperfections from your images

Processing Time
1-2 business days in lab + shipping
Mpix photo Proof Portfolios. A professional presentation for your photography.
Mpix has your back when it's time to showcase your best work. Our Proof Portfolio books provide the ideal presentation to professionally display your photo proofs.
Proof Portfolios are finished with a black or white background and spiral-bound. Have your photography portfolio printed on either E-Surface or Fuji Pearl paper, guaranteeing your photo proofs will sell your strengths with crystal clear Mpix color quality. Decide between four, six, eight or 12 images to a page. Choose either the 8x10" or 10x13" portfolio to effectively display your photo proofs and protect your prints with a Lustre Coating so little fingerprints don't hide the beauty of your photos.
In just a few clicks get a big head start on your photography projects with a professionally made Proof Portfolio highlighting your favorite photo proofs. The rest is in your hands.
Becky Boyer
Is the price 1.60 or 2.00 per page?
Mpix
Hey Becky! That depends on the paper type that you choose, and the size proof portfolio that you order. If you select the E-surface paper and a 8x10" proof portfolio, then the pages do start at $1.60. Thanks!
Roni Lichtig McLeod
Two questions: Can I design and upload my own front and back cover and proof pages? And, do the front and back cover get printed on heavier paper for a more stable book? Thank you.
Mpix
Hey Roni! We apologize, but with the proof portfolios you do not have the option to create a custom cover page. The cover is 1/16" clear plastic to protect the inner pages. Thanks!
Katharine Morales
When picking which photo paper to print on, is the demo picture you show one with high noise or does the paper make it that noisy/grainy? Does the Fuji Pearl paper decrease clarity (make it less sharp) on every image?
Mpix
Hey Katharine! The E-Surface paper is our most popular option - it provides archival quality and a standard photographic finish with exceptional clarity. The Fuji Pearl paper provides a glossy finish and ultra-bright backgrounds with a softer feel to the image. I hope that helps!
Paul M. Boucher
Does the proof book still come with the see through page on the front
Mpix
Hey Paul! You are correct, the cover has not changed. Thanks!
Ace Mcamarillo
Is there any way to only get one photo in the center of each page?
Mpix
Hey Ace! Our customer service team will be able to help you with this. Their e-mail address is customerservice@mpix.com and they will get back to you super fast. Thanks!
Marilyn Rose
I tried everything to use the photos you claim you have stored to order a new proof book using the six per page format rather than 12 per page which will be using less photos. (60 rather than 120) I wanted to choose my favorites. If you let me know how to do this - I will place an order.
Mpix
Hey Marilyn! Our customer service team would be happy to help you with this, please e-mail them at customerservice@mpix.com and they will get back to you very quickly!
Harmony Motter
how do I give my cover page a title?
Mpix
Hey Harmony! We apologize for the late response. Once the portfolio is in the cart, you will need to click on Add a Cover Image, click the box Use a Cover Image and then enter the text in the fields provided and Save Changes. Thanks!
Melita Veatch
How many pages can I do and once I order my book can I order more later on to add to it?
Mpix
Hey Melita! Up to 75 pages can be bound per book. If there are more than 75 pages, we would have to divide them into volumes for easier handling. The portfolios are not set up to be added to after ordering. Thanks!
Melita Veatch
Ok thanks! And the price listed it per page right?
Mpix
You are correct, the price listed is per page. Thanks!