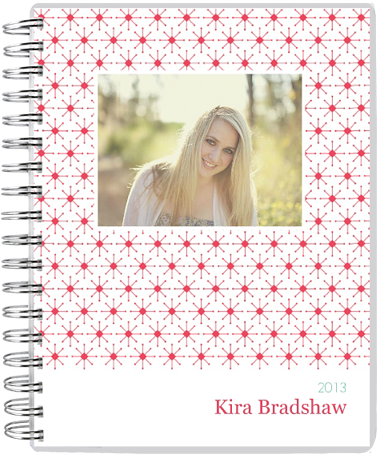 Front
Others Like This
4-Starburst
Day Planner,
Starting at $29.99
Starburst
Day Planner,
Starting at $29.99
Day Planner Details
Pricing
Size
7x9"
Cover
Matte finish for durability
Interior Pages

Signature paper

Binding
Metal spiral binding
Calendar Features
12-month calendar - you select the starting month
Design Features
Drag and drop your images into one of our stylish designs
Boutique Packaging

Gift wrap your order in our upscale packaging
Custom Day Planners by Mpix: 1-Starburst
Our 1-Starburst custom Day Planner features your photo in a white frame accompanied by a coral star pattern on a white background. Your name and the year are displayed near the bottom of the page. The back of this Day Planner features the same coral star pattern background. Select the starting month as well as the inside color theme (Rainbow or Basic Black) to create your new personal assistant in a snap! Order your own personalized photo Day Planner with a metal spiral binding in a 7x9".
Let's make life easier with a custom Day Planner from Mpix. With lots of fun and creative designs featuring your personal photos, there's no way you'll ever forget your important meetings and appointments. Our 12-month calendar (you select the starting month) will make it easy to keep track of your daily routine.
Our spiral-bound Day Planners come in a variety of different designs and themes so you can choose your best fit. Find modern and contemporary designs with bright colors and fun patterns. Find minimalist styles with neutral colors and classic layouts. Also select from our Basic Black and Rainbow colored themes for the inside pages to add your own personalized flair. Drag and drop your images into one of our custom creations and you'll be ready to conquer your busy schedule in no time!
Here at Mpix, our quick ordering process and lightning fast turnaround makes it easy to keep up with your fast paced routine! Make this the year you finally get organized with a personalized photo Day Planner from Mpix.