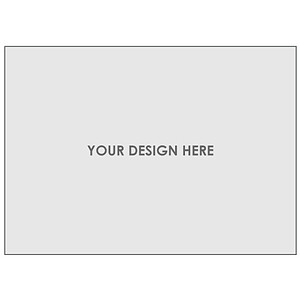 Front
Flat Cards Details
Pricing

Flat Cards, 4x5.5" (25 per set)
1 Set
$25.00
2-5 Sets
$24.00
Flat Cards, 5x7" (25 per set)
1 Set
$28.00
2-5 Sets
$27.00
Flat Cards, 5x5" (25 per set)
1 Set
$28.00
2-5 Sets
$27.00
Flat Cards, Circle 5x5" (25 per set)
1 Set
$44.00
2-5 Sets
$43.00
Ornate Cards, 5x7 (25 per set)
1 Set
$55.00
2-5 Sets
$54.00

Please note: Receive multiple set pricing when ordering multiple sets of the same card. Pricing structure does not apply when ordering multiple sets of multiple cards.
Sizes
4x5.5, 5x5, 5x7, 5x5 Circle, 5x7 Ornate (not all designs are available for all sizes)
Paper Types

Signature, 100% Recycled, Stock, Pearl or Linen paper

Coating

Gloss coating available for Stock Paper cards (front side only; coating not available for 5x5 Circle Cards)

Card Option

Add a pre-punched hole to 5x5 Circle Cards for custom ornaments
Ornate is a stylish 5x7 card that is just different enough to standout

Design Features
Drag and drop your images into one of our stylish designs
Sets
Order in sets of 25
Envelopes
Envelopes available at no additional charge
Boutique Packaging

Gift wrap your order in our upscale packaging

Address Labels

Add an address label (size 7.25x0.625") to your card order; choose one of nine color options

Processing Time
1-2 business days in lab + shipping
Custom Photo Cards by Mpix: Create Your Own Custom Greeting Card Design
Do It Yourself Custom Photo Cards, Flat Cards and Folded Cards let you completely customize the design and layout of your greeting card. Send a custom invitation for a wedding, bridal shower or a birthday party, or send a custom photo greeting card for Christmas and the holidays. Creative license is all yours, so design away, friends!
Choose from a 4x5.5" or 5x7" Flat or Folded Card layout, or try one of our 4x8" Photo Cards in a vertical or horizontal format. Completely customize every last inch of your dream card with Mpix, your one stop shop for all of your stationery needs. You can rest assured your card is printed on high-quality paper, like our Mpix Signature or 100% Recycled papers, and delivered, carefully packaged, on your doorstep faster than you can spell "supercalifragilisticexpialidocious."
Shirley Watkins Ramsey
How much for custom 3X4 cards (or 2.5 X 3.5) ? I do not see that option on your custom cards. To insert in "introduction badge" holder for class reunion.
Mpix
Hey Shirley! Please work with our customer service team to get this order completed, they will be able to provide you with an estimate. They can be reached at customerservice@mpix.com. Thanks so much!
Erin Dee Denniston
Is there an option for rounded corners when selecting a flat 5x7 card?
Mpix
Hey Erin! You do have the option for rounded corners when in the checkout process for cards. Thanks!
Wendy Foster Mazurkiewicz
I need to purchase extra envelopes but I don't see that as an option. How can I do that?
Mpix
Hey Wendy! Our customer service team can help you with this - please e-mail them at customerservice@mpix.com and they will get back to you super quick - thanks!
Carol Conkling
I see a set is $25.00, which is 25 cards. What does 2-5 sets means? 125 cards for $24.00 for every 25 cards? Not sure.
Mpix
Hey Carol! If you get more than 1 set of 25 cards that are the same, you get a bulk discount. That price ($24.00) is for 2-5 sets of 25 cards. So if you got 4 sets of the same cards, they would be $96.00. Thanks!
Karen Perala
Where is the dimension guide for DIY cards? There was something that I downloaded before that had what lines to put content vs a fold line vs extra design to combat white space.
Mpix
Hey Karen! The guide files are located here: http://www.mpix.com/products/cards/diy--112_1#cat=112. Thanks!
Laura Hayes Florkowski
Do you print your mpix logo on the back of all your prints? if not, would someone be able to add their personal logo to the back?
Mpix
Hey Laura! We do not add the Mpix logo to the back of our prints. There is an option to add custom text to the back during the checkout process. Thanks for your question!
Eliza Carter
Can a return address be printed on the back flap of the envelope? If yes, is there an additional fee?
Mpix
Hey Eliza! We do have address labels as an add-on in the shopping cart. We have 9 different colors to choose from, and they are $15.00 per set of 25. However, they will need to be applied afterwords, as they are not printed on. Thanks!
Eliza Carter
?
Casie Yount
On the pearl paper, is it shiny on both sides or just 1?
Casie Yount
...for the postcards if that makes any difference.
Mpix
Hey Casie! Both sides will have a pearlescent shine to them. Thanks!
Natalie Harris
Is foil available on Create Your Own cards?
Mpix
Hey Natalie! I apologize, however we do not have foil cards. Thank you for your question!
Casey Craig
Hi there! Do these come with envelopes?
Mpix
Hey Casey! We do include envelopes free of charge. Thanks!
Casey Craig
Mpix Perfect, thank you!