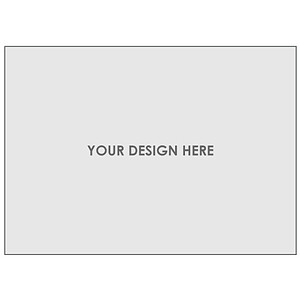 Front
Flat Cards Details
Pricing

Flat Cards, 4x5.5" (25 per set)
1 Set
$25.00
2-5 Sets
$24.00
Flat Cards, 5x7" (25 per set)
1 Set
$28.00
2-5 Sets
$27.00
Flat Cards, 5x5" (25 per set)
1 Set
$28.00
2-5 Sets
$27.00
Flat Cards, Circle 5x5" (25 per set)
1 Set
$44.00
2-5 Sets
$43.00
Ornate Cards, 5x7 (25 per set)
1 Set
$55.00
2-5 Sets
$54.00

Please note: Receive multiple set pricing when ordering multiple sets of the same card. Pricing structure does not apply when ordering multiple sets of multiple cards.
Sizes
4x5.5, 5x5, 5x7, 5x5 Circle, 5x7 Ornate (not all designs are available for all sizes)
Paper Types

Signature, 100% Recycled, Stock, Pearl or Linen paper

Coating

Gloss coating available for Stock Paper cards (front side only; coating not available for 5x5 Circle Cards)

Card Option

Add a pre-punched hole to 5x5 Circle Cards for custom ornaments
Ornate is a stylish 5x7 card that is just different enough to standout

Design Features
Drag and drop your images into one of our stylish designs
Sets
Order in sets of 25
Envelopes
Envelopes available at no additional charge
Boutique Packaging

Gift wrap your order in our upscale packaging

Address Labels

Add an address label (size 7.25x0.625") to your card order; choose one of nine color options
Custom Photo Cards by Mpix: Create Your Own Custom Greeting Card Design
Do It Yourself Custom Photo Cards, Flat Cards and Folded Cards let you completely customize the design and layout of your greeting card. Send a custom invitation for a wedding, bridal shower or a birthday party, or send a custom photo greeting card for Christmas and the holidays. Creative license is all yours, so design away, friends!
Choose from a 4x5.5" or 5x7" Flat or Folded Card layout, or try one of our 4x8" Photo Cards in a vertical or horizontal format. Completely customize every last inch of your dream card with Mpix, your one stop shop for all of your stationery needs. You can rest assured your card is printed on high-quality paper, like our Mpix Signature or 100% Recycled papers, and delivered, carefully packaged, on your doorstep faster than you can spell "supercalifragilisticexpialidocious."
Jessica Jeffrey Russell
Do you have a 5x7 two sided card option?
Mpix
Hey Jessica! We do have card templates that match that size, however not all of our templates will have that option. We do also have our DIY cards which let you upload your own design - this includes a 5x7 option. They are located here: http://www.mpix.com/products/cards/diy-custom-horizontal-flat-folded-card-420. Thanks!
Amanda Karshna
Hello! Would I be able to get a set of 25 of different photos?
Mpix
Hey Amanda! We apologize but the majority of our cards are ordered in sets of 25, which would be 25 of the same design. However, you can order our 4x8 Photo Cards one at a time, they are printed on our Photographic Paper. Thanks!
Amanda Lynch
How do I get one of the backgrounds you offer onto my card and customize with text? When I drag the background I want onto the card, it's not doing anything???
Mpix
Hey Amanda! The DIY card options allow you to upload a completely custom design of your own, we do not have tools to design a card on the website, which includes adding text to templates. You will have to create your card using a photo editing program and then upload the finished product to our site as a JPEG. Thanks!
Cassie Price Sherbeck
Can you tell me what the turn around time is for cards?
Mpix
Hey Cassie! We ship card orders from our lab in one business day, after that we would suggest choosing FedEx as your delivery option to make sure you get your order the fastest. Thanks!
Karen Akin
is there an ivory paper?
Mpix
Hi Karen. We do not offer an ivory paper at this time.
Carrie Campis-Dugan
What paper option is best for writing on? I'm making cards for a bridal shower game and the guests will need to write on them.
Mpix
Hi Carrie. Ball point pens will work with all of the paper types available on cards. Our most popular card papers are Signature and 100% Recycled, which will also work with Sharpies.
Brandy Smith
do you offer a rounded corner option for custom design greeting cards?
Mpix
Hey Brandy! We do not offer a rounded corner option, however our sister company MpixPro might have what you are looking for! Check them out at http://www.mpixpro.com/Catalog.aspx/luxecards. Thanks!
Kelsey Klarenbeek
Hi! If I need to write on the back of my cards for a thank-you - what paper type would be best for that?
Mpix
Hey Kelsey! All of our paper types work equally well for writing on the back. Thanks!
Megan Arrington
Is there a way to have a double sided DIY card? Meaning, not using one of the offered designs, but uploading my own.
Mpix
Hey Megan, there sure is! You can do that here: http://www.mpix.com/products/cards/diy--112_1#cat=112. Thanks!
Jeri Archer Wieczorek
where do you choose which paper type you want on the DYI cards? It just gave me signature...is this good for graduation cards?
Mpix
Hey Jeri! After you are done adding your photos to the card template and you have added the template to the cart you are able to choose your paper type. The signature paper is our thickest press paper and you will love it!