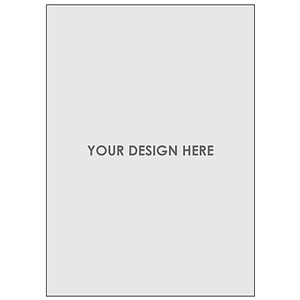 Front
Flat Cards Details
Pricing

Flat Cards, 4x5.5" (25 per set)
1 Set
$25.00
2-5 Sets
$24.00
Flat Cards, 5x7" (25 per set)
1 Set
$28.00
2-5 Sets
$27.00
Flat Cards, 5x5" (25 per set)
1 Set
$28.00
2-5 Sets
$27.00
Flat Cards, Circle 5x5" (25 per set)
1 Set
$44.00
2-5 Sets
$43.00
Ornate Cards, 5x7 (25 per set)
1 Set
$55.00
2-5 Sets
$54.00

Please note: Receive multiple set pricing when ordering multiple sets of the same card. Pricing structure does not apply when ordering multiple sets of multiple cards.
Sizes
4x5.5, 5x5, 5x7, 5x5 Circle, 5x7 Ornate (not all designs are available for all sizes)
Paper Types

Signature, 100% Recycled, Stock, Pearl or Linen paper

Coating

Gloss coating available for Stock Paper cards (front side only; coating not available for 5x5 Circle Cards)

Card Option

Add a pre-punched hole to 5x5 Circle Cards for custom ornaments
Ornate is a stylish 5x7 card that is just different enough to standout

Design Features
Drag and drop your images into one of our stylish designs
Sets
Order in sets of 25
Envelopes
Envelopes available at no additional charge
Boutique Packaging

Gift wrap your order in our upscale packaging

Address Labels

Add an address label (size 7.25x0.625") to your card order; choose one of nine color options

Processing Time
1-2 business days in lab + shipping
Custom Photo Cards by Mpix: Create Your Own Custom Greeting Card Design
Do It Yourself Custom Photo Cards, Flat Cards and Folded Cards let you completely customize the design and layout of your greeting card. Send a custom invitation for a wedding, bridal shower or a birthday party, or send a custom photo greeting card for Christmas and the holidays. Creative license is all yours, so design away, friends!
Choose from a 4x5.5" or 5x7" Flat or Folded Card layout, or try one of our 4x8" Photo Cards in a vertical or horizontal format. Completely customize every last inch of your dream card with Mpix, your one stop shop for all of your stationery needs. You can rest assured your card is printed on high-quality paper, like our Mpix Signature or 100% Recycled papers, and delivered, carefully packaged, on your doorstep faster than you can spell "supercalifragilisticexpialidocious."
Catarina Bernier
Hi, can flat cards be double sided? (picture in front and back?) If so, is there an additional fee to print on both sides instead of one side only?
Mpix
Hey Catarina! Custom Flat Cards can be double sided, there is not an additional fee for the printing. Thanks!
Catarina Bernier
Mpix Ok, thank you for responding. I don't see an option where you can add a photo to the back side. Can you please advise?
Mpix
Catarina Bernier on the left hand side of the ordering screen is an option for "Pages" that gives you the option of "Front" or Back". This is where you can select the option to add a photo to the back of the card. Thanks!
Catarina Bernier
Mpix Thank you.
Juliet Theresa
I would like to make 25 folded cards, but each one being different. Is this possible?
Mpix
Hey Juliet! Unfortunately, we are only able to print cards in sets of 25 at this time. Please e-mail our customer service team at customerservice@mpix.com and they might be able to create a special order for you. Thanks!
Michelle Hingst Saxen
in a folded card - can i print and add pictures on the inside
Mpix
Hey Michelle! You are able to completely customize your design - including photos printed on the inside of a folded card. Thanks!
Michelle Gillen Blackford
I'm working on a 5x7 flat card. The picture I'm using, I designed with the invite info on it and was cropped in Photoshop Elements to a 5x7; but part of it is being cut off when I put it onto the card. Can you tell me what size I need to be pulling in so as not to lose anything?
Mpix
Hey Michelle! We have our guide files available to download for our DIY cards here: http://www.mpix.com/products/cards/diy--112_1#cat=112. They will help you in designing your card. Thanks!
Kallyn Prangley
Will your site allow me to do a front/back flat card?
Mpix
Hey Kallyn! You are able to upload both a front & back design. Thanks!
Tammy Thornberry-Taylor
Is a 5x7 card regular postage?
Mpix
That is correct Tammy - they are regular postage. Thanks!
Tammy Thornberry-Taylor
same with the 4x5.5?
Mpix
The 4x5.5" is regular postage as well. Thanks!
Ali Salse
Hi there, I am trying to upload a PDF on the flat card option, but it wont let me upload it because it is not a photo file. How can I upload this in another way?
Mpix
Hey Ali! We only accept JPEGS for printing. Please save your file as a JPEG and then upload it. Thanks!
Kari Freskos Payne
Hi there again. I am printing a 1 sided 50th anniversary invite and some of the border and wording is gold "glitter" which I believe is a clipart image type of thing. I am trying to select the best paper, and not sure if stock is the way to go. The invite is black, white, and gold "glitter", so I want it clear, crisp, and sharp, but with a nice weight. Do you have a suggestion ?
Mpix
Hey Kari! You will love our Signature paper - is is our favorite paper and it offers a soft, textured feel with great attention to detail and crisp colors. It is also our thickest paper at 130#. Thanks!
Kari Freskos Payne
So the texture of the paper won't affect the glitter aspect? I'm trying to understand how textured paper would be better than smooth paper. I'd love to send you guys a picture of the invite! Or can I place my order and then call somewhere to discuss it once you guys see it?
Mpix
Hey Kari! You can send the image to our customer service department at customerservice@mpix.com and they can help you with the order. The Signature paper does have a textured feel, however the image quality will not suffer - including the glitter aspect. We also have our Stock paper, which is 120# and offers a smooth & detailed finish that accentuates colors you might be more interested in. I hope that helps!
Kari Freskos Payne
Hi there, My graphic designer sent me a pdf with 2 5x7 invites side by side, to be cut. Can I upload the file this way? Thanks for your help, I need to order today.
Mpix
Hey Kari! These need to be seperated into two different files before uploading and ordering. Thanks!