Calendars
Spiral bound and completely custom, make each month of the year a little more memorable.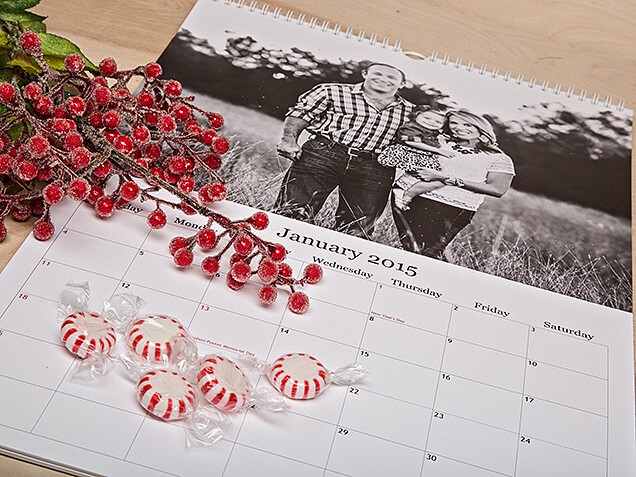 Product Details
Pricing

Calendars
1
$20.00
2-10
$19.00

Sizes
11x8.5" or 12x18"
Paper Types

Signature or Pearl Paper

Options
Customize special dates with images and important events
Processing Time
1-2 business days in lab + shipping
Greet every month with a smile with a personalized Calendar from Mpix.
Celebrate your favorite moments all year long with a personalized Calendar.
Our Photo Calendars come in either a Center Fold (11x8.5") or Binding on Top (12x18") style to fit a desk, wall or wherever there's a need for a bit more organization and a lot more smiles. Pick a photo for every month - use them to celebrate birthdays, anniversaries, holiday cheer and any other special moments or memories tied to that time of year.
Brenda Cellmer-Monda
I just received my calendar in the mail and I am completely amazed! The color, the size, the quality, the speed of service and the ease of creating this. I am a huge believer in traditional scrapbooking but your company may have turned me digital! Thanks for making my son's Senior Pictures come to life and allowing me to share his greatness with family.
Mpix
Awww you're making us blush. Thank you Brenda!
Chris G. Pflum
Can the photo area of the 12 x 18, binding on top calendar vary to accommodate vertical or horizontal formats? In other words, I would like each photo to fill as much of the photo area as possible without creating blank spaces.
Mpix
Hey Chris! Our customer service team will be able to help you with this order - their e-mail address is customerservice@mpix.com and they will get back to you super quick. Thanks!
Andrea Lynn
Are the calendar pages thicker like card stock material or more like sheets of paper from a copy machine?
Mpix
Hi Andrea. The Signature and Pearl paper options available for our Wall Calendars are the same papers used for our Cards, and our Signature paper (at 0.45mm thickness) is actually thicker than traditional card stock.
Kristin Woehl Ragins
I have been making your 12 x 18 calendars for 5 years and the quality is very good. I have a suggestion for future web site development. It would be great if your user interface would allow you to view each pages of the calendar bigger, and fix the scrolling so it is easlier to use. I find it difficult to review me project on the postage stamp size, Also, it would be nice to opt out of the strange holidays.
Mpix
Thanks for the suggestion Kristin! We will pass this along to our website development team.
Christopher Hope
What is the turn around time on the spiral bound calendars?
Mpix
Hey Christopher! Our press orders, including spiral bound calendars, ship out in 24-48 hours from when you order. Thanks!
Melissa Claphan Cole
I've created a calendar through my digital scrapbook supplies and software. I'd like to upload the bottom of the two page calendar, the month portion, in the form a jpg. I would not like to use the premade grids. How can I do this? I know I ordered calendars this way from here several years ago and the quality by far has been the best.
Mpix
Hi Melissa. While this is not possible by ordering through the Mpix website, our customer service department will be happy to help with a solution. You can reach our team at customerservice@mpix.com.
Paul Schatzkin
Where can I find the actual dimensions of a 12x18 calendar? I mean, are the photos 12x18 (I guess that would make the whole thing 18x24?) or are the photos HALF of the the vertical dimension, i.e. 12wX9h? That information would be useful, ya know...??
Mpix
We apologize for the confusion, Paul. The entire size of these Calendars is 12x18, so your images (if you select Full Page Photos as your theme) are 12x9.
Peggy Valois Dutkiewicz
When will I be able to order a 2015 Calander?
Christal Steele
I would LOVE a calendar like this, but much smaller. My daughter (who lives in Canada) got me a calendar that measures approximately 8 x 11 and 1/2 when opened. It's the perfect size to hang above my desk at work. I would think many others would prefer a smaller option. Could you consider offering this?
Mpix
Thank you for the suggestion, Christal. We will pass this along to our product development team for consideration.
Robyn Nightengale Blandamer
Is it possible to put a picture on a specific date?
Mpix
It sure is, Robyn. Click the customize button at the bottom right while in the edit step. Click on the month to the left and then click on the date box on the calendar. You will then be able to drag an image into the box and/or add text.
Ali Mick
Mpix I cannot find the customize button anywhere! I need to add birthdays to my calendars - any help please!