S

tandouts

Make your photos pop with a simple yet stylish foam-mounted Standout from Mpix.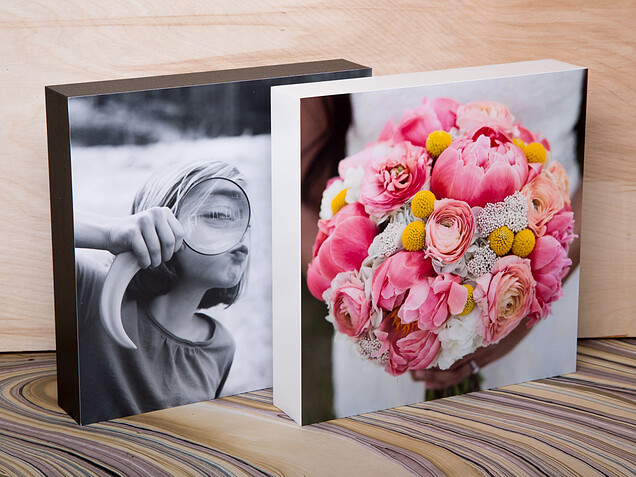 Product Details
Pricing

| | |
| --- | --- |
| 8x10 | $30.00 |
| 8x12 | $40.00 |
| 11x14 | $55.00 |

Sizes
8x8", 8x10", 8x12", 10x10", 11x14", 16x20", 16x24", 20x20", or 20x30"
Paper Types

E-Surface, Fuji Pearl or True Black & White Photo Paper

Coating

Add Lustre Coating for protection

Mounting

Print mounted to 1.5" thick foam board in black or white trim

Retouching

Remove slight imperfections from your images

Processing Time
1-2 business days in lab + shipping
Important
Borders are not recommended on Standouts. Prints will be trimmed slightly and border cannot be kept even. When placing text or logos on your image please keep a minimum of ½" from the edge of the file.
Foam Mounted Photo Standouts by Mpix Home Decor: Discover your inner artist.
Home Decor has never been easier. For the home decorator searching for that sophisticated and contemporary look, try a Foam Mounted Standout by Mpix. Printed on any of our three professional quality papers (E-Surface, Fuji Pearl or True Black and White) and mounted on a black or white finished 1.5" foam board, Standouts add a fresh, modern feel wherever they hang.
Our Standout sizes range from 8x8" to 20x30" and can be protected with Lustre Coating to keep it looking brand new for years to come. Mpix Photo Standouts are delivered in just a few days, ready-to-hang out of the box.
Upload your digital photos, select your preferences and watch your walls come to life with just a few clicks. It's so easy you just might think it's magic.
Michelle Patrizio
Do you think you would ever add a 12x12 or 16x16 size?
Mpix
Hey Michelle! We will pass this suggestion along to our product development team. Thanks!
Devin Shanthikumar
Mpix I second the 16x16 recommendation.
Kris Renee Murphy
12x12 & 16x16 would be awesome!
Colleayn Klaibourne
I too would like 12" x 12" or 14" x 14"
Bill Sanders
Would really like to see some square sizes on this product!
Tom Bramwell
Do you no-longer offer standouts with the metallic paper?
Mpix
Hey Tom! Our Metallic paper option is called the Fuji Pearl Paper. It is available to order with the standouts - thanks!
Erica Knoop
Was wanting to order to go on my mantel above our fireplace. How do you think your standouts would do around a little heat from the fire?
Mpix
Hey Erica! Depending on the amount of heat, the print may seperate from the foam backing. We would not recommend a standout for above the fireplace - however a Framed Print or a Modern Metal would be perfect!
Marlo Robinson Moeller
Can you do a collage of prints on a standout?
Mpix
Hey Marlo! We do not have a collage builder on our site at this time, however if you create a collage using a photo editing program you can upload it to our site and print it. Thanks!
Carolyn Corbin
I ordered a standout recently, loved the quality and the availability to stand on shelves or hang.
Mpix
Thanks Carolyn!
Chelsea Cott Lambrecht
We ordered standouts of our kids 4 years ago and they still look like the day we picked them up in the mail. Such great quality. I love them so much that I am making another order of them today. They are super versatile, can hang on the wall or sit on a side table.
Mpix
We are so glad you love your standouts Chelsea!
Crystal Hefley
Do you offer a Standout that is 3/4" thick. We ordered standouts through our photographer that were this thickness and would like them all to match.
Mpix
Hello Crystal, the Standouts that we currently offer are 1.5" thick. Thanks!
Sasha Iversen
Do you print larger than 20x30?
Mpix
Hi Sasha. We do not print Standouts larger than 20x30, but we do offer Photo Prints as large as 24x36: http://www.mpix.com/products/prints
Kirsten Hund
Hi, How long does it take to deliver the standouts once I have ordered them?
Mpix
Hi Kirsten! We ship Standouts from our lab within 1 business day, after that it depends on the delivery option that you choose. We always recommend FedEx to make sure your order arrives the fastest. Thanks!
Ralph-Paula Watts
I was wondering if I have a picture that is vertical and I want it to be horizontal, can you do that?
Mpix
Hey there! We allow you to crop the photo before ordering, and this includes rotating the image if you desire. Thanks!