P

hoto Magnets

Give life to your fridge with your favorite photos in magnet form.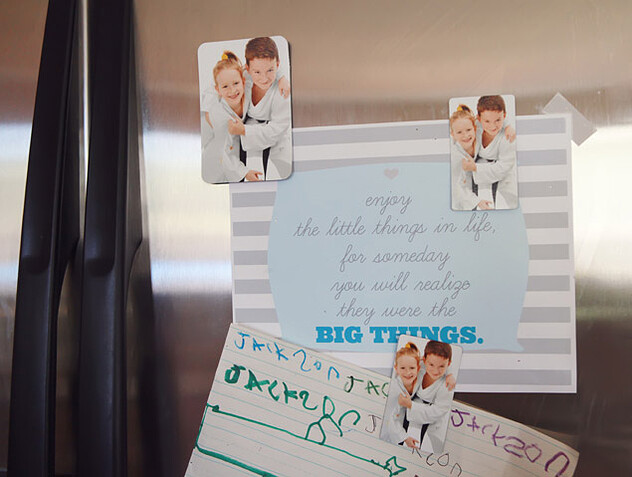 Product Details
Pricing

Photo Magnets
1
$2.95
2-10
$2.45

Please note: Receive multiple Photo Magnet pricing when ordering multiple Photo Magnets of the same image. Pricing structure does not apply when ordering multiple Photo Magnets of different images.
Sizes
2x3.5" or 3x4.5" (2x3.5" comes 2 per sheet)
Paper Types

Printed on E-Surface, Fuji Pearl, or True Black & White Photo Paper and adhered to magnetic backing

Retouching

Remove slight imperfections from your images

Processing Time
1-2 business days in lab + shipping
Order Custom Photo Magnets online with Mpix.
Custom Photo Magnets from Mpix are the ideal way to make a memory last or to send a message that gets noticed - and sticks around! Send as a gift for loved ones to enjoy your family photos every time they open the fridge.
Order a 2x3.5" or 3x4.5" custom Photo Magnet printed on any of our professional quality paper choices (E-Surface, Fuji Pearl or True Black and White) and adhered to a durable magnetic backing. All you have to do is upload your photo and choose your size, your paper and how many you want to order. Mpix takes care of the rest. In just a few days your top-quality and personalized Photo Magnets are delivered.
Yep, it's that easy. No, we're not kidding. So what are you waiting for?
Want to send a magnet as an invitation, save the date, birth announcement or as a Christmas greeting? Check out our design magnets, with tons of different options for every occasion.
Dawn Cluckie
Can a magnet be cut into a specific shape or is it just available as squares or rectangles? Also, can we send the picture and ask for a suggestion as to which paper would be best suited for the particular design before we make that decision?
Mpix
Hey Dawn! We apologize however we cannot cut the magnets at this time. Our customer service team can help you with your image, please e-mail them at customerservice@mpix.com. Thanks!
Helen Wang
Hi, can you print the magnet in larger size like a standard photo (4x6 or 5x7)? Also, can we get a proof when order in large quantity?
Mpix
Hey Helen! Please e-mail our customer service team at customerservice@mpix.com for assistance with your order. Thanks so much!
Heather Handy
Can I get "Save the Date" and more printed on the magnet?
Mpix
Hey Heather! We do have magnets that have templates specific to certain occasions like save the dates, they are here: http://www.mpix.com/products/funstuff/magnets/wedding--119_1#cat=119. The photo magnets are completely customizable, so if you have an image with "save the date" printed on it and upload that to our site, we can print it for you. I hope that helps!
Lisa Soon
"2x3.5" comes 2 per sheet" - does that mean that I have to cut them?
Mpix
Hey Lisa! Friday, the 2x3.5 magnets are die cut so you will not have to cut them out. Thanks!
Mpix
Hey Lisa! The 2x3.5 magnets are die cut so you will not have to cut them out. Thanks!
Tricia Babb Beauchamp
LOVE the photo magnets! Had my sons senior pics done by a friend & ordered these to put in the thank you cards. I no longer order the photo magnets offered by the sports photographers at the school. They are smaller in size, then the pic of my child is half of that space while the other half is boarder. Even if I only order one, I am not paying any more & I dont need bifocals to see my child. I just get a pose with them in their uniform at a seperate time. THANK YOU!!
Jahmie Cartier
I have been ordering magnets for 2 years. I love them & my customers do to! <3
Fred Die
So, does the sheet of two cost 2.95 for the pair, or 5.90 for the pair...I am a potential customer!
Mpix
Hey Fred! The sheet of two costs 2.95 for the pair. Thanks, and we are excited to start working with you!
Jenny Weekley
I noticed in the comments that it was said a 1/4in border needs to be allowed on the 3x4.5inch magnets, does that same measurement also apply to the smaller 2x3.5? I'm trying to get an idea about workable templates.
Mpix
We apologize for the confusion, Jenny. You shouldn't need to include a border when designing your 2x3.5 Photo Magnets.
Judy Crawford
So is it 2.95 per sheet (for 2)?
Mpix
Hey Judy! For the 2x3.5" magnet that is correct - it is 2.95 per sheet, and the sheet comes with two magnets. Thanks!
Judy Crawford
I ordered the 2x3.5 magnets for the first time since my question and thought I would be getting 2. I only received 1 for my last order. I am trying to get this right for I have a many of these orders in the future to fulfill. If I select (2) will I be charged for 2 then?
Mpix
Hey Judy! Can you e-mail our customer service team with the order number so we can see what went wrong? They are at customerservice@mpix.com. Thanks!
Julia Ripley
I ordered magnets and it says 2 per sheet. Is that two of the same picture for the $2.95 price? I just received my order and I was assuming (I know...) that I would have two magnets per 1 person's order. Could you clarify for me please? Thanks! Julia
Julia Ripley
I just read Amy's post below. Who and how do I contact because I only received one magnet per order. Thanks! Julia
Mpix
We apologize about this, Julia. Please contact our customer service team at customerservice@mpix.com so we can get this straightened out for you.