S

tatuettes

Freeze a favorite moment in time with this unique decorative piece.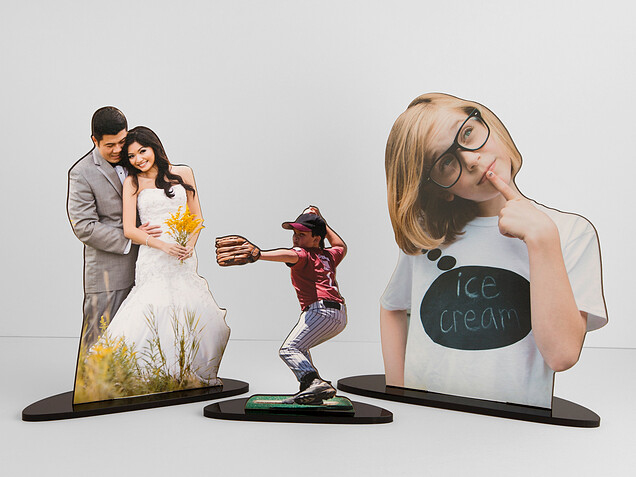 Product Details
Pricing

5x7 Statuette
1
$16.00
1
$22.00
8x10 Statuette
1
$24.00
1
$30.00

Pricing Note: Pricing is based off of the number of people in the photo or complexity of the cut (1 head, 2-4 heads, or group/complex). Group/Complex pertains to images that are more than 4 heads within the image or that require intricate cutting (i.e. motorcycles, boats, landscapes, etc.).

Please note: Receive multiple Statuettes pricing when ordering multiple Statuettes of the same image. Pricing structure does not apply when ordering multiple Statuettes of different images.
Size
5x7" or 8x10"
Material

Printed on E-Surface Photo Paper and mounted to 1/8" masonite with a small black acrylic base

Retouching

Remove slight imperfections from your images

Processing Time
1-2 business days in lab + shipping
Tips
If possible, avoid extending the item/person off the picture. Crop your image prior to ordering, and leave ¼" at the bottom for the base.
Important
Our in-house artists will use their best discretion when determining how much of an image to include in the Statuette.
Create personalized photo Statuettes with Mpix. Let your photos take a stand.
After you've already filled the walls with Photo Products from Mpix, get started on the counters, desks and tabletops with Mpix personalized photo Statuettes. Our Statuettes takes your digital photo and cuts out the background, leaving a standing image of your choice.
Statuettes are perfect for sports poses, action shots or any other moment you want to freeze in time. We offer 5x7" and 8x10" cut out sizes, and our expert in-house artists can handle multiple persons and objects (it might cost ya!). As always, it only takes a few days to get your delivery after you order.
Do something new and exciting with your digital photos. Create a personalized photo Statuette with Mpix.
Michael Sit
I'm thinking of ordering this for my daughter's volleyball team. I'm assuming I have to choose pictures where the volleyball is in contact with the player for this to work? What if I have a picture of a girl bumping the ball and there's another girl in the background, will you be able to isolate just the player with the ball?
Mpix
Hey Michael! We are able to isolate only the subject that you want turned into a statuette. Thanks!
Emily Weber Thau
Do you color correct or print as is?
Mpix
Hey Emily! We will color correct your image for free, or you can have it printed as is by selecting "Do Not Color Correct" in the checkout process. We will happily re-print anything that we color correct that does not meet your standards of excellence, however if you select "Do Not Color Correct" we can not re-print your order if the color is not what you were expecting. Our customer service team can help you calibrate your monitor to our printers to make sure what you see on your screen is what gets printed, and can be reached at customerservice@mpix.com. Thanks!
Ashlee Hillis Wells
it will not let me order one, the disclaimer will not leave the screen
Mpix
Hey Ashlee! Please e-mail our customer service team at customerservice@mpix.com to get this issue resolved. Thanks!
Robin Teagarden
I currently use another printer for sports team pics but some parents were asking about the statuettes that my printer doesnt offer. I want to offer them to my clients but Im concerned about the shipping price. What would it cost me in shipping if only a couple of parents ordered the statuette?
Mpix
Hey Robin! We have a flat shipping rate per order. If you order the statuettes all at the same time, your shipping cost will just depend on the type of shipping you choose. You can learn more about our shipping prices here: http://www.mpix.com/about/Shipping.aspx. Thanks!
Stephanie Dobbs Campbell
Is white the only base color option?
Mpix
Hey Stephanie! The white base is the only color option at this time. Thank you for your question!
Kendra Monical
Is this possible to put on top of a wedding cake? Is it then paper or what
Mpix
Hey Kendra! You will be able to put a statuette on top of a wedding cake. Thanks!
Rosanna Taylor
Can I print boudoir photos?
Mpix
Hey Rosanna! We do accept boudoir photography for printing. Thanks for your question!
Shannon Warner
Can you do this for pets?
Mpix
Hey Shannon! We sure can! Thanks for your question.
David Price
let's get a statuette a SPORTS FIGURE OF YOUR CHILD!!!!
David Price
let's get a statuette a SPORTS FIGURE OF YOUR CHILD!!!!
Candra Marshall
Very Nice! Loved it!