S

tatuettes

Freeze a favorite moment in time with this unique decorative piece.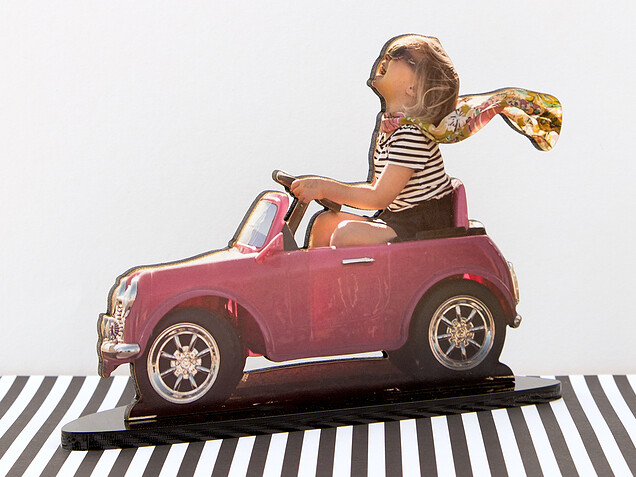 Product Details
Pricing

5x7 Statuette
Item/Head
$16.00
2-4 Items/Heads
$22.00
Group/Complex
$26.00
8x10 Statuette
Item/Head
$24.00
2-4 Items/Heads
$30.00
Group/Complex
$34.00

Pricing Note: Pricing is based off of the number of people in the photo or complexity of the cut (1 head, 2-4 heads, or group/complex). Group/Complex pertains to images that are more than 4 heads within the image or that require intricate cutting (i.e. motorcycles, boats, landscapes, etc.).

Please note: Receive multiple Statuettes pricing when ordering multiple Statuettes of the same image. Pricing structure does not apply when ordering multiple Statuettes of different images.
Size
5x7" or 8x10"
Material

Printed on E-Surface Photo Paper and mounted to 1/8" masonite with a small black acrylic base

Retouching

Remove slight imperfections from your images

Processing Time
1-2 business days in lab + shipping
Tips
If possible, avoid extending the item/person off the picture. Crop your image prior to ordering, and leave ¼" at the bottom for the base.
Important
Our in-house artists will use their best discretion when determining how much of an image to include in the Statuette.
Create personalized photo Statuettes with Mpix. Let your photos take a stand.
After you've already filled the walls with Photo Products from Mpix, get started on the counters, desks and tabletops with Mpix personalized photo Statuettes. Our Statuettes takes your digital photo and cuts out the background, leaving a standing image of your choice.
Statuettes are perfect for sports poses, action shots or any other moment you want to freeze in time. We offer 5x7" and 8x10" cut out sizes, and our expert in-house artists can handle multiple persons and objects (it might cost ya!). As always, it only takes a few days to get your delivery after you order.
Do something new and exciting with your digital photos. Create a personalized photo Statuette with Mpix.