Thumbprint
P

hoto Box

Bring photo sharing back to its roots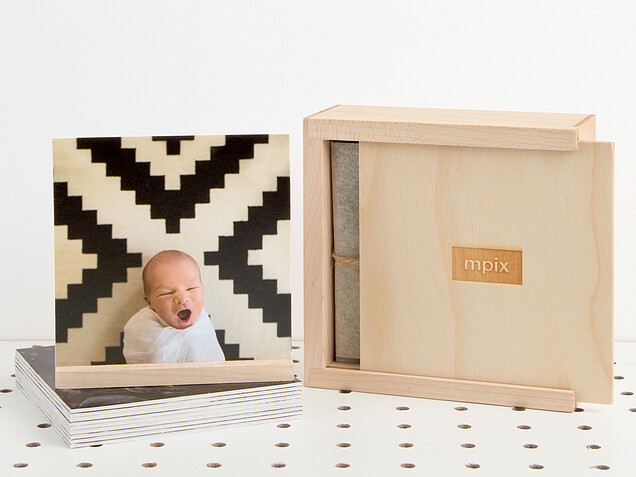 Product Details
Pricing

| | |
| --- | --- |
| Thumbprint Photo Box, 4x4 - 50 prints | $49.99 |
| Thumbprint Photo Box, 4x4 - 10 mounted prints | $59.99 |

Box
4x4 maple box with 1.5" depth and wooden lid with slide closure. The Mpix Logo is laser engraved on the wooden lid.
Paper Types
E-Surface, Metallic and True Black & White
Coating
Lustre Coating
Mounting
4 easels included within each option. The 10 mounted prints are mounted to single weight matboard
Boutique Packaging
Gift wrap your order in our upscale packaging
Processing Time
1-2 business days in lab + shipping
The Thumbprint Photo Box by Mpix.
From snapshots on a phone to prints in hand, the Thumbprint Photo Box stores 4x4 prints (10 mounted or 50 unmounted) with four easels for a classic display. The box is made of a timeless maple wood with a slide top so your photos are never more than a few seconds away!
Like a thumbprint, your life is full of memories that are distinctly you. Maybe it's a snap from a first date, a goofy selfie with your best friend or a photo of a special time spent with family. These cherished moments deserve a life beyond the screen.
Prints are available on the amazing E-Surface, flashy Metallic and classic True Black & White papers. The Thumbprint Photo Box is perfect for any desktop, mantle or dorm room. The best part? You can easily swap out your photos to create a new display!
Ian DeGraff
The MPIX logo on the box makes this a non-starter. Even offering it without the words Mpix means I can buy it and use it with clients. In a perfect world we'd be able to put a logo or the families name on the box.
Jonathan Ratzlaff
Can the laser engraved "MPix" logo be replaced with a studio logo or a couple's name?
Mpix
Hey Jonathan! We are not able to add any other engraving at this time. This is something we have passed along to our product development team. Thanks for your question!
Emmy Bowman Slusser
Is it possible to download your pictures directly from Instangram or Facebook?
Mpix
Hey Emmy! You can do this using our free Mpix Tap to Print App for iPhone and Android, however on the computer you will have to save the file to your computer before uploading. Thanks!
Yvette Llorance
Do the easels fit in the box with the photos? and can you order extra easels?
Mpix
Hey Yvette! The easels do fit in the box with the photos. Please e-mail our customer service team at customerservice@mpix.com about ordering extra easels. Thanks!
Nicole Sabourian
Do the unmounted photos stand up n easels?
Mpix
Hey Nicole! If you stack a few together, they will stand up in the easels, however a single print does not. Thanks!
Diane Considine
Question: The photographs cannot stand in the easels - only the mounted photos - is this correct?
Mpix
Hey Diane! The mounted prints do stand in the easels on their own, the un-mounted prints can stand in the easel if you stack them together. Thanks!
Annie Damphousse
LOVE this product. Are you considering offering same product for standard photo size of 4 x 6? Just got married and this would be a lovely gift for my wedding party but the 4 x 4 size wouldn't work well with many of our images.
Mpix
Hey Annie! We do have our Keepsake Boxes in a 5x7 size that you might be interested in - you can even customize these with photos from each special occasion - they are located here: http://www.mpix.com/products/funstuff/keepsakebox. We will pass along your suggestion for the bigger Thumbprint Box to our product development team. Thanks!
Lydia Daniels Petersen
Ashley Ann's photos from Under the Sycamore make me happy! Great Display + "Cherished Moment" Photographs = Another Mpix Winner Thank you!
Marie Asbury
Love this idea for the fave Instagram pics!!
Winnie Stauffer Kittiko
I want to do this as a Christmas present. Does anyone know if the the unmounted pictures stand up in the easel as well as the mounted pictures would? I'm wondering if they might curl or sag a bit?
Fawn Goodrich
That's my question. Did you get an answer?
Mpix
Hey Fawn! You can stand up the non-mounted prints in the easel, you would just have to have your favorite print out front and the others supporting it. The mounted prints are the best option for display. Thanks!