Wall Clings
What child doesn't want to see their picture, larger than life, on a bedroom wall?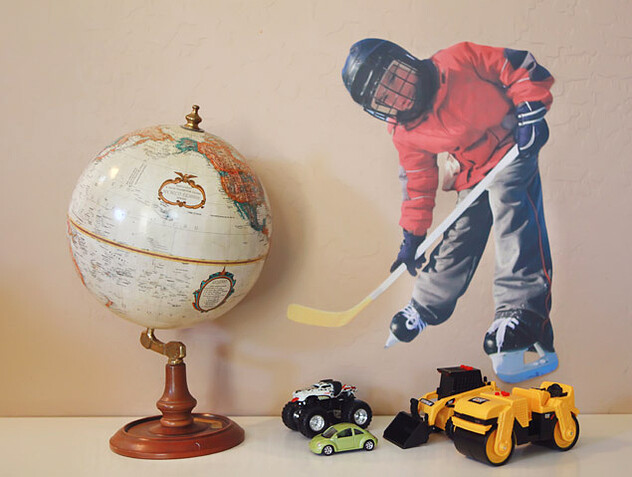 Product Details
Pricing

| | |
| --- | --- |
| 18x12 | $40.00 |
| 36x24 | $60.00 |
| 48x32 | $70.00 |
| 60x40 | $80.00 |
| 72x48 | $90.00 |

Sizes
18" up to 72"
Material

Printed on premium material with light adhesive for easy-on, clean-off application to smooth surfaces

Retouching

Remove slight imperfections from your images

Processing Time
1-2 business days in lab + shipping
Custom Wall Clings from Mpix. A reminder to dream big.
Every little athlete dreams of making it big. Transform that dream into a reality with a custom photo Wall Cling from Mpix.
Wall Clings are printed on premium material with a light adhesive for easy-on, clean-off application to your walls, making them easily removable and replaceable. Sizes are available from 18" to 72" to make your athlete as big as their aspirations.
Don't let those photos of your star-in-the-making go to waste, create unique and exciting photo gifts with Mpix.
Regina Lawler
What resolution is best for the larger clings? Thanks!
Mpix
Hey Regina! We recommend a resolution of 300 DPI at the size that you wish to order. Thanks!
Britney Cales Wassom
The photo that I want to use Your site keeps telling me it is too small?? The photo is of entire body so I don't understand what I need differently. I want a wall cling 18 x 12
Mpix
Hey Britney! The resolution of your image might not be high enough to where we can enlarge it to that size. Please e-mail our customer service team for additional help with this issue. Their e-mail address is customerservice@mpix.com. Thanks!
Dale Bradley
i want to print a custom photo to cling to the back of an aquarium for background..possible? The photo side would have to cling to the glass
Mpix
Hey Dale! We are not able to print an image on the adhesive side of the cling. Thanks for your question!
Kelly Pickett
Could these be used for a sign with words and pictures? Would the background be clear outside the lettering?
Mpix
Hey Kelly! The background would not be clear, it would have to be a color. It can be used for a sign if it is within the dimensions available for ordering. Please work with our customer service team so they can make sure your order is perfect - their e-mail address is customerservice@mpix.com. Thanks!
Teresa Wagner
Do you sell small clings like 8 x 10 or 5 x 7. In a picture or grouping as an example.
Mpix
Hey Teresa! Our customer service team can work with you to create your wall decal. Please e-mail them at customerservice@mpix.com, and they will get back to you super quick. Thanks!
Timothy Scahill
Are all purchases final? What if we don't like how the final image printed out? Could you link me with your return policy?
Mpix
Hey Timothy - that policy is here: http://www.mpix.com/about/TermsAndConditions.aspx. Thanks!
Kara Mulholland Niland
Hello - are the small wall clings safe for wood? I worry about it staining. Thank you!
Mpix
Hey Kara! The wall clings should be safe for use on wood. Thanks!
Matt Ryb
Can you make a wall cling from the entire frame of a photo? I want the entire 8x12 image area as a wall cling.
Mpix
Hey Matt! We can do this, just add this note to the Special Instructions while ordering your wall cling. Thanks!
Renluka Maharaj
Hello: does the image have to have a white background only for wall clings?
Mpix
Hey Renluka! The image does not have to have a white background to be made into a wall cling. Thanks!
Barb Thornton
Will these stick to glass? Do they pull off paint when being removed?
Mpix
Hey Barb! They will not remove any paint when taken down - they use a special adhesive that makes them easily removeable and replaceable. They should stick to glass as long as there is no moisture from condensation. Thanks!