Calendars
Spiral bound and completely custom, make each month of the year a little more memorable.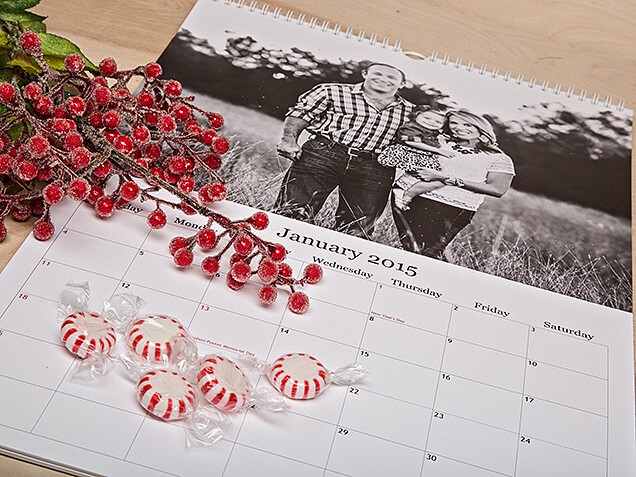 Product Details
Pricing

Calendars
1
$20.00
2-10
$19.00

Sizes
11x8.5" or 12x18"
Paper Types

Signature or Pearl Paper

Options
Customize special dates with images and important events
Processing Time
1-2 business days in lab + shipping
Greet every month with a smile with a personalized Calendar from Mpix.
Celebrate your favorite moments all year long with a personalized Calendar.
Our Photo Calendars come in either a Center Fold (11x8.5") or Binding on Top (12x18") style to fit a desk, wall or wherever there's a need for a bit more organization and a lot more smiles. Pick a photo for every month - use them to celebrate birthdays, anniversaries, holiday cheer and any other special moments or memories tied to that time of year.
Pam Jacobson
I have tried to load the sofware and complete a calendar with no success. I get the calendar done and get ready to send and the whole page disappears from my computer screen. I am on a mac (latest update) and updated Java. I want to use this software so I can create my own special dates on the calendar rather than use the ones that come standard if choosing the regular calendar. Has anyone else had this problem?
Mpix
Hey Pam! Please e-mail our customer service team at customerservice@mpix.com and they will help you complete this order. We apologize for the inconvenience. Thanks!
Mary Becker Campagnaro
I am trying to delete pre formatted text on the calendar (Jan 13 Stephen Foster Memorial Day) but am unable to do so. Any suggestions? Not really interested in this on my calendar.
Mpix
Hey Mary! Please e-mail our customer service team with this issue. Their e-mail address is customerservice@mpix.com. Thanks!
Laura M. Brown
If you change the text color to the same color as the background, it won't show.
Maria Cooper
I'm seeing this issue come up again and again and I wonder why you are not addressing it here. In the past, we were able to make calendars with different backgrounds and other ways additions. Were did that option go? If it's not available, I will definitely be using another site.
Maria Cooper
FYI- I emailed customer service and this was the reply.. The calendar creation on the site is more basic this year. We do have desktop software that can help you with creating this how you would like though. Please see the link below. http://www.mpix.com/MpixPress.aspx
Eliza Hechmer
Maria Cooper You're the best. Thanks for posting this!
Pam Jacobson
Maria Cooper I have tried to make this software work on my computer so I can make a more personal calendar and omit the pre-set holidays that I am not interested in. I have a mac with the latest version and Java is up to date. I have tried 7 different times to make the calendar, added pictures, edited, added text, etc. but when I got to "send" to order, the whole screen disappears off my computer! What am I doing wrong? What am I missing?
David Wirt
I want to use photos with different aspect ratios such as 4/5 and 2/3 for a calendar. Your 8.5x11 calendar has an aspect ratio that is approximately 3/4. How does your system deal with that? Are they cropped? Are they resized? If they are resized to a different aspect ratio, doesn't that degrade the image quality?
Mpix
Hey David! Our system finds teh best fit crop, and allows for you to edit the crop before ordering. Our system also determines the maximum size print that can be ordered from the image quality and will not accept anything that won't turn out professional quality. Thanks!
David Wirt
Mpix Can you tell me how to crop the picture after it is uploaded to the calender. I did not see that option. I would much rather decide for myself. As an experiment, I uploaded a larger print (12x18). Although the info said that it was reduced and was excellent quality, it appeared to be not sharp. When I uploaded the smaller files, the info said that it was expanded and was good quality and it appeared sharp.
Mpix
Hey David, our customer service team will be able to provide you with the best help while ordering. Their e-mail address is customerservice@mpix.com, and they are very fast and very helpful. Thanks!
Rose Boyd
I'm making some of the months into a collage and I need to know what the proportions of the picture size would be. Example 57:43
Mpix
Hey Rose! Please e-mail our customer service team for help with this order. Their e-mail address is customerservice@mpix.com, and they are super fast and super helpful. Thanks!
Lauren Tauchen
I would like to make a calendar using some photos taken with my phone. Will the quality of these pictures be enough to look nice on a calendar?
Mpix
Hey Lauren! Our software determines the maximum size you can enlarge your photos to. If you are able to add these photos to the calendar, the quality will be excellent. Thanks!
Patsy Jamieson
I would like to make a calendar of food photos with recipes. Is there enough room for text to include a recipe adjacent to the photo or on the reverse side?
Mpix
Hey Patsy! Our customer service team can give you the best tips to create this calendar. Please e-mail them at customerservice@mpix.com. Thanks!
Brenda Breeding
Just two weeks ago we had the option of three types of paper. I prefer a paper that is a little bit more shine than either the signature or the pearl paper. Is this still possible?
Mpix
Hey Brenda! Please e-mail our customer service team at customerservice@mpix.com for this issue. Thanks!