F

ramed

P

rints

Add the icing to the cake with a custom frame for your favorite photos.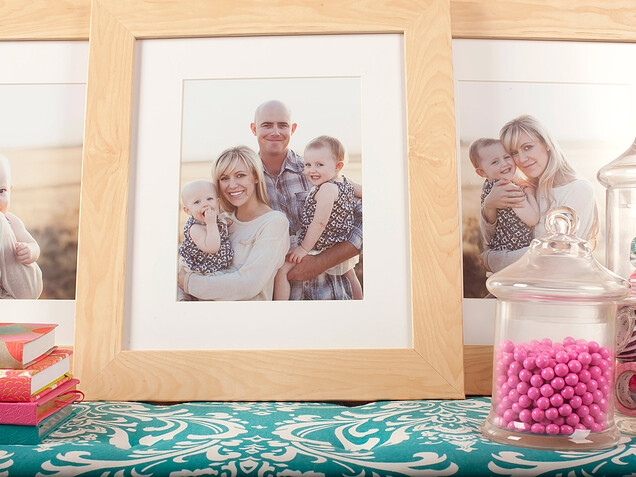 Product Details
Pricing

| | |
| --- | --- |
| Black Metal 5x7 | $14.00 |
| Black Metal 8x10 | $18.00 |
| Black Metal 8x12 | $20.00 |

View Frame Pricing

Frame Sizes
Starting at 3.5x5" up to 20x30" prints (24x36" frames not available)
Frame Styles

16 popular frame styles

Paper Types

E-Surface, Fuji Pearl, or True Black & White Photo Paper

Coating

Add Lustre Coating for protection

Mounting

Choose mounting or a mat for your framed print

Glass
Select no glass, regular glass, or non-glare glass (we recommend no glass when choosing Fuji Pearl paper for your print)
Framed Prints from Mpix Home Decor: Discover your inner artist.
Use your very own digital photos to create unique and beautiful home decor with a stylish and custom Framed Print. Choose any one of our three pro-quality papers, including E-Surface, Fuji Pearl and True Black and White, for an exquisite heirloom piece that can be enjoyed for generations.
With 16 frame finishes, like Espresso Walnut or White Flat, you're sure to find the perfect match to express your personal style. Add durability to stand the test of time with superior mounting and mat options. Sizes range from 3.5x5" all the way up to 20x30" from maximum design possibilities and our glare-free glass ensures sunup to sundown viewing pleasure.
Let Mpix help reveal your artistic nature and explore all your chic options to accessorize your walls with Framed Prints from Mpix Home Decor.
Irene Pomianowski
Wow! My framed prints arrived yesterday. The B&W prints are striking, the matting, framing, and backing are excellent, and everything was in perfect condition because of the very careful and substantial packing.
Mpix
We are glad you love them Irene!
Mark Cline
I'm confused on the pricing. If I order a 8x10 print framed & matted, is it then priced as a 12x14 frame (to accommodate the mat), or 8x10?
Andy Borgmann
I too have this question. The cart process doesn't seem to explain this very well. It looks more like if I select an 8x10 photo, then a frame and matte, then it reduces the size of the photo to fix an 8x10 frame. Thus making the photo 4x6. Is this how it works? Or does it stick to an 8x10 and then make it a 12x14 frame?
Stephen Meese
Straight from Mpix's site (click on mounting above): Mat Options: Black and White Mat come in 2" width and are optional. Adding a mat to a framed print increases the width and height by 4". Example an 8x10" print that is framed and has a mat will end up being 12x14" plus the width of the frame. With mat, glass is required and mounting is not available. Without mat, mounting is required and glass is optional.
Diane Armijo
the problem being that Mpix doesn't sell a 12x14 frame
Diane Armijo
And if you buy a 11x14 frame, you can't get a 7x10 print, etc etc
AnnaMarie Tew Weise
I wanted to see if selecting a certain paper type and/or coating and framing it without glass would give the picture somewhat of a textured look. Thank you.
Mpix
Hey AnnaMarie! We do not have any textured finishes for our prints on photographic paper at this time. We do have our canvas on matboard option. The canvas provides the rich texture for your print and the matboard gives it a sturdy backing that prepares it for framing or other types of display. Thanks!
Carolyn Rogerson Ricks
Is there an option of having a hanging wire on the framed prints?
Mpix
Hey Carolyn! The wire hanger is only on the larger sizes with glass. All of our Framed Prints arrive ready-to-hang, the wire just depends on the print size and if you are ordering the window mat and/or glass. Thanks!
Irene Pomianowski
I want to order 9x12 prints, matted & framed. When I go thru the selections, the price for the frame comes up as $30. On the Frame Price List this is for a 9x12 frame. Are the sizes on the Frame Price List based on the size of the print or the size of the frame? A matted 9x12 print would measure 13x16. Just want to be sure the order is correct before I place it.
Mpix
Hey Irene! You are correct, the price is based off of the size of the print that is being framed. Thanks!
Diane Armijo
Mpix - so the print is a 5x8?
Mpix
Hey Diane! It is a 9x12" print, however the frame adds 2" to each side so the final product will be about 13x16" (depending on the mat option - this could add another 2" to each side). Thanks!
Melanie Bice
I was wondering if you could tell me what the exact size would be if I ordered a 20X20 canvas on matboard and had it framed with the bronze ornate frame?
Mpix
Hey Melanie! The final size would be a 24x24, the frame adds two inches to each side. Thanks!
Melanie Bice
Mpix Thank you!!
Iris Montes
Can I add more them one picture frame?
Mpix
Hey Iris! You can order multiple framed prints, however we do not sell our frames independently of prints at this time. Thanks!
Laurie Rousse
Can you ever order the frames without the print in it?
Mpix
Hey Laurie! Unfortunately we do not sell our Frames independently of Prints at this time. Thanks for reaching out to us about this!
Mpix
Hey Laurie! We do not sell our frames independently of prints at this time. Thanks for reaching out to us!
Jodi Kaldahl Grabast
2 questions: I'm wanting to order 8x8 prints, framed in espresso walnut . What will the final size be including the frame? And is that a dark brown? or black?
Mpix
Hey Jodi! The Espresso frame is a dark brown and it is approximately 2" in width. The final size for just the print and frame would be approximately a 12x12. Thanks!