Canvas Gallery Wraps
Turn your memories into a high-end art piece worthy of any museum wall.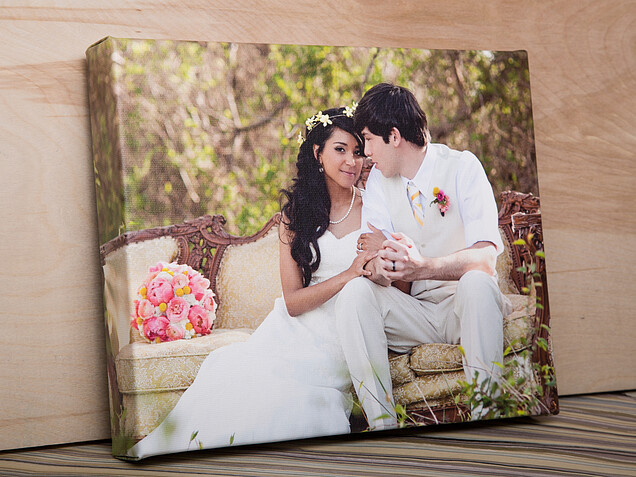 Product Details
Pricing

| | |
| --- | --- |
| 11x14 | $70.00 |
| 16x20 | $90.00 |
| 16x24 | $100.00 |

Sizes
8x10", 10x10", 11x14", 10x20", 16x16", 10x30", 16x20", 16x24", 20x20", 20x24", 20x30", 24x30", or 24x36"
Material

Printed on fine art canvas and wrapped around a 1.5" stretcher frame

Important

To ensure proper positioning of your image please refer to the preview tab when ordering Gallery Wraps

Retouching

Remove slight imperfections from your images

Processing Time
2-3 business days in lab + shipping
Canvas Gallery Wraps by Mpix Home Decor: Discover your inner artist.
Decorate and refresh your walls with a personalized Canvas Gallery Wrap from Mpix.
Transform your favorite photos and create a gorgeous piece of unique wall art for your home. Have your photos printed on professional quality canvas and then gallery-wrapped around a 1.5" wooden stretcher frame. Delivered in just a few days, your canvas print arrives ready-to-hang right out of the box. Choose from a variety of dimensions to find the perfect fit for your photos, and for your walls.
Your pictures are already priceless; now turn them into authentic art with Canvas Gallery Wraps from Mpix.
Holly Timmons Terry
I would like to get a 3 panel piece, is that possible? Do you have sizes for that specifically? or do I suggest my own size
Mpix
Hey Holly! Our customer service team can help you work through the details of this order. Please e-mail them at customerservice@mpix.com. Thanks!
Cindy King Baczkowski
Where do I find the canvas on mat board option? I saw it before I signed in but cannot find it now… should I call instead?
Mpix
Hey Cindy! You can add the canvas + matboard option in the shopping cart after you have selected your desired print size with the "Add mount" option. Thanks!
Ryan Dearth
Can I order just a canvas print, unmounted?
Mpix
Hey Ryan! We do not offer a canvas print that is not mounted or gallery-wrapped at this time. We apologize for the inconvenience. Thanks for your question!
Karey Williams
How long do these take to get back?
Mpix
Hey Karey! We will ship your canvas gallery wrap within 48 hours, after that it just depends which shipping option you choose. We always suggest picking FedEx to ensure faster delivery. Thanks!
Alicia Glover-Barnes
How quickly can a canvas be done and shipped?
Mpix
Hey Alicia! Canvas Wraps have a turnaround time of 2-3 business days. We would then suggest choosing FedEx Next Day Delivery as your shipping option to make sure you get your order the fastest. Thanks!
Karin Nath Schade
Is it possible to have your canvas wraps done without the 1.5" stretcher frame added?
Mpix
Hey Karin! We do have our option for a canvas mounted to a matboard. You can learn more about this option here: http://www.mpix.com/products/prints/mounting-and-canvas. Thanks!
Lois Julia Coleman
I have a landscape panoramic photo I'd like done on a gallery wrapped canvas 24" X 36." Not sure how your process works. Do I just updoal the photo and you center itso it wraps?
Mpix
Hey Julia! Once you upload the photo and select the size canvas wrap you are looking for, you are given the option to approve the crop of the final image so you can position it to your liking. Thanks!
Rachel Wohlford-Ottmann
How do the gallery wraps hold up in areas of the house where it gets sun?? Do they fade easy?
Mpix
Hey Rachel! The gallery wraps are archival quality within normal conditions, which includes areas with sunlight. They come standard with a protective UV coating that also protects against water damage. Thanks!
Shelley K. Sandberg
Can you do a 4x10" wrap? The studio referred us to you but your site doesn't list the option.
Mpix
Hey Shelley! We do not have an option for a 4x10" wrap, we apologize for the inconvenience. Thank you for your question!
Jean Bright
Can you do a collage?
Mpix
Hey Jean! We do not have a collage building tool on our site at this time, however if you create a collage using a photo editing program and upload the file to us we can absolutely print it for you. Thanks!