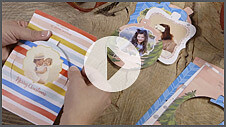 Browse
103 Birth Announcements Modern Pop Cards
Introducing: Modern Pop Christmas and Holiday Greeting Cards by Mpix.
The holiday greeting that packs a punch!
The Modern Pop Card features a perforated Circle or Ornate shaped ornament in the center of the card that is ready to pop-out and hang right out of the envelope. With a variety of beautiful colors and designs, that perfect holiday card is just a few clicks away!
Whether you're looking for bright and bold patterns or a traditional design featuring Christmas trees and snowflakes, we've got you covered. These little beauties are available on all of our premium paper options including the scrumptious Signature Paper.
Our easy ordering process and quick delivery will provide some much needed relief during this busy season. Just upload your photos, select your favorite greeting card and we will take care of the rest. Now, kick back and spend some time with your loved ones.
Santa has elves. You have Mpix.
Marshall Rowe
A photographer like myself would rather have individualized Chrismas ornaments. Is it possible to buy individually? I would need approximately 50 cards.
Mpix
We apologize, Marshall, but our Modern Pop Cards are only sold in sets of 25. We do offer metal Holiday Ornaments that are sold individually and can be ordered here: http://www.mpix.com/products/funstuff/ornaments. Our Photo Cards are also sold individually, and you can view the designs here: http://www.mpix.com/products/cards#cat=95&Products=photocards.
Jane Duggins
Do you have to use the same picture in a set? How many cards come in a set?
Mpix
Hi Jane. Cards come in sets of 25, and each Card in the set will have the same images.
Forever Young Photography
CUTE idea for Christmas cards!
Lisa Greenspan-Vitaz
Are you able to get a sample card with your pictures on it to see what it looks like? Do you think you will have another promotion soon?
Mpix
Unfortunately we do not offer samples of the Modern Pop Cards at this time, and we do not have any promotions planned for the next several weeks.
Lisa Greenspan-Vitaz
Do you guys ever offer any promotional discounts on the the modern pop Christmas card?
Mpix
Hi Lisa. We had a discount on Modern Pop Cards a few weeks ago, but we do not have any current codes at this time.
Sara J Marble
I am totally in love with this site for christmas cards!
Jessica Byrd Thibodeaux
Shutterfly has great ones this year too!
Sarah Lau-Melby
Do they come with the string to hang them?
Mpix
Thank you for reaching out to us, Sarah. The Modern Pop Cards do not come with string.
Cathy Solomon
Great print site.