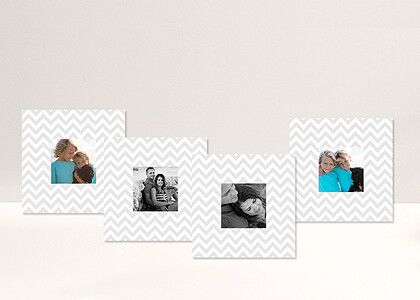 Front
Framers Details
Pricing

| | |
| --- | --- |
| Framers, 4 8x8 Mats | $24.99 |
| Framers, 4 10x10 Mats | $24.99 |
| Framers, 4 11x14 Mats | $24.99 |
| Framers, 2 16x16 Mats | $29.99 |
| Framers, Mixed Mat Set | $29.99 |

Framer Sizes

| Overall Size | Print Size |
| --- | --- |
| 8x8 | 4x4 |
| 10x10 | 4x6 |
| 11x14 | 5x7 |
| 16x16 | 8x10 |

Paper Types
E-Surface, Metallic and True Black and White
Coating
Lustre Coating
Mounting
Assembly is required. Photo prints and Framers arrived packaged separately. All material necessary for display is included.
Processing Time
1-2 business days in lab + shipping
Framers by Indie Mats: Maritime Ripples - Four 8x8 Mats
The Maritime Ripples Mat Set has four 8x8 photo framing mats with a light gray chevron pattern.
This DIY home décor photo mat comes equipped with four foam adhesive stickers so you can hang photos without the damage caused by hammer and nails.
Just follow these three simple steps:
Tape your photo to the back of the Framer.
Place the four foam adhesive stickers on the back of the Framer and peel the labels.
Slap it on the wall and ... voila, you're done!
Give your walls a free spirited makeover that adds color and style without sacrificing your walls - or your wallet. Framers are available for print sizes 4x4, 4x6, 5x7 and 8x10 and sold in sets of four (besides the 16x16 size).
Delivered super fast and easy to assemble right out of the box, celebrate life and all it has to offer with Framers from Mpix - order yours today!