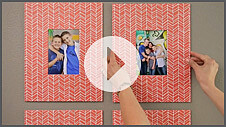 Browse
Framers by Indie Mats: Colorful DIY Photo Framing Mats
Introducing Framers by Indie Mats, a freaky fun way to display photos. This DIY home décor photo mat comes equipped with four foam adhesive stickers so you can hang photos without the damage caused by hammer and nails.
With six color coordinated collections, you can accent a living room, hallway or bedroom in a matter of minutes.
It's so easy! Just follow these three simple steps:
Tape your photo to the back of the Framer.
Place the four foam adhesive stickers on the back of the Framer and peel the labels.
Slap it on the wall and ... voila, you're done!
Give your walls a free spirited makeover that adds color and style without sacrificing your walls - or your wallet. Framers are available for print sizes 4x4, 4x6, 5x7 and 8x10 and sold in sets of four (besides the 16x16 size).
Delivered super fast and easy to assemble right out of the box, celebrate life and all it has to offer with Framers from Mpix - order yours today!
Jodi Carless
What color is the Island Mai Thai? In some photos it looks red and others it looks like coral.
Mpix
Hey Jodi! The Island Mai Thai set of framers is Coral in color - thanks!
Lisa Strouse
what is the difference in the mat boards?
Mpix
Hey Lisa! Can you please further explain your question?
Natalie Eberhard
I love these, it would be nice to have additional sizes since frames for certain print sizes that you can order here can be particularly hard to find, like square prints and wide prints.
Mpix
Hey Natalie! Thank you for the suggestion, we will pass this along to our product development team.
Beka Leavitt Bracken
I would love to see just white or black for a more classic look. Is this possible?
Mpix
Hi Beka. While we can print the photos in black and white if you choose True Black & White photo paper, you do not have the option to change the colors of the Framer designs. However, we will definitely pass this suggestion along to our product development team for consideration.
Rosaura Ortiz
Do you guys sell photo frames for the different sizes you offer, like the 10x20 20x20 and the special size prints and if so what are your prices. It would be nice if you had them like in blue and pink also.
Mpix
Hey Rosaura! All of our framed prints pricing and information can be found here: http://www.mpix.com/products/pricing/?product=framedprints&category=homedecor. We do not sell Frames without prints, and the price is by the size of the picture being framed, not the size of the finished product. Thanks!
Heather Ramos
I just ordered the Morrocan Infusion Mixed Mat Set and absolutely love it! However, it would be nice if each mat design was offered in all four sizes with the option to mix and match or purchase individually instead of in predetermined sets of four only.
Chelsey Guffy
Is it easy to switch out photos? I change out photos often!
Mpix
Hey Chelsey! We suggest using tape to secure the prints to the back of the Framers, this way you can easily switch out photos. Thanks!
Ryan Beidler
Can you mix the prints and sizes? I'd like the Amy Butler creamy sketchbook in a set of 4 10x10 mats
Mpix
Hey Ryan! Unfortunately we are not able to change the designs and sizes of the Framers at this time. Thank you for your question!
Jenna Weiner
What a great idea...especially for apartment dwellers!
Erin Burns Baird
I love this idea.