Canvas Gallery Wraps
Turn your memories into a high-end art piece worthy of any museum wall.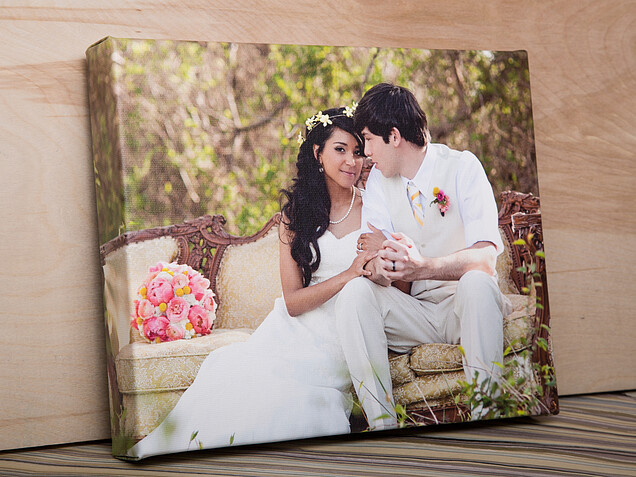 Product Details
Pricing

| | |
| --- | --- |
| 11x14 | $70.00 |
| 16x20 | $90.00 |
| 16x24 | $100.00 |

Sizes
8x10", 10x10", 11x14", 10x20", 16x16", 10x30", 16x20", 16x24", 20x20", 20x24", 20x30", 24x30", or 24x36"
Material

Printed on fine art canvas and wrapped around a 1.5" stretcher frame

Important

To ensure proper positioning of your image please refer to the preview tab when ordering Gallery Wraps

Retouching

Remove slight imperfections from your images
Gallery-Wrapped Canvas Prints by Mpix Home Decor: Discover your inner artist.
Decorate and refresh your walls with a personalized piece of high-end wall art, a Canvas Gallery-Wrap from Mpix.
Transform your favorite digital photos and create a gorgeous piece of unique wall art for your home. Have your photos printed on professional quality canvas and then gallery-wrapped around a 1.5" wooden stretcher frame. Delivered in just a few days, your canvas print arrives ready-to-hang right out of the box. Choose from a variety of dimensions to find the perfect fit for your photos, and for your walls.
Your pictures are already priceless; now turn them into authentic art with Canvas Print Gallery Wraps from Mpix.
Melisa Wicker Franklin
when centering the photo it is cutting off the heads-any suggestions on centering up and down. I can only move picture left to right?
Mpix
Hi Melissa, once you have placed the image in your cart. Select "edit crop" and you will be able to adjust the photo up and down. Sorry for the confusion!
Michelle Siebarth-North
I am also trying to not cut the heads off my canvas and I do not see an edit crop function once my photo is in my cart.
Mpix
Michelle Siebarth-North - Please e-mail our customer service team at customerservice@mpix.com and they will help you complete this order. Thanks!
Stacy Chapman Dickerson
My photo size is 14x20 - can I do a custom size canvas wrap?
Mpix
Hi Stacy. Unfortunately we do not offer custom sizes for our Gallery Wraps at this time, but I will be sure to notify our product development team of your request. Thanks!
Trisha Wright
Would you be able to do a 32 x 48 gallery wrap?
Mpix
Hello Trisha, the largest size Gallery Wrap that we offer is 24x36. Sorry!
Becky Boyle
Can you do collage canvas
Mpix
Hey Becky! We do not have a collage builder on our site at this time, however if you build a collage using a photo editing program and upload the finished file to our website we can print it on a canvas for you. Thanks!
Jeannine Pound
Can you mirror the edges of the image for the 1.5" wrap? I ordered a canvas from a different shop this way and it was IDEAL. Entire image on the front but the impression of an image wrap. The photos I take for clients all include an edge that could be mirrored on a 1.5" wrap.
Mpix
Hey Jeannine! Our customer service team will be happy to help. Please email our agents at customerservice@mpix.com.
Vicki Stimax Faix
I have a family picture with six of us in it. I've seen on pinterest where they have taken a family photo and cut it into three sections making three canvas pictures instead of the one. Can that be done through Mpix?
Mpix
Hey Vicki! If you e-mail our customer service team, they will be happy to assist you with this order. Their e-mail address is customerservice@mpix.com. Thanks!
Betty Vb
Love
Bethany Donovan
I have 2 pictures I want to get printed on a canvas, but both are being cut off more than half of the picture... not understanding how I can fix this, want the whole body in the canvas. I can do the whole body on other websites but only print through your company because of the quality..please help!
Mpix
Thank you for reaching out to us about this, Bethany. Our customer service team will be happy to help. Please email us at customerservice@mpix.com.
Kamber Mathews
Can I have plain on the sides? or does it have to be the picture wrapped all the way around?
Mpix
Hi Kamber. We are able to add a white, black or blur border to your Gallery Wrap rather than having your image wrap all the way around the product. You would just need to email our customer service team at customerservice@mpix.com immediately after placing your order and ask us to apply the border for you.
Kamber Mathews
Mpix Great! Thanks so much!
Rose Fried
Hi, i'm trying to do a canvas gallery wrap and my picture is a close up and most of it gets cut off. How can i zoom out to fit the whole pic on the canvas?
Mpix
Hi Rose. Our customer service team will be able to work through possible solutions with you. Please email us at customerservice@mpix.com.