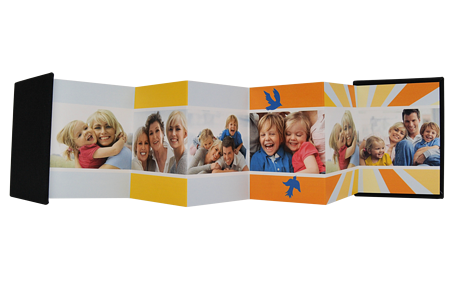 Front
Accordion Minis Details
Pricing

Accordion Mini
1-2
$19.99
3+
$15.99

Please note: Receive the 3+ Accordion Minis pricing when ordering 3+ of the same design with the same images. Pricing structure does not apply when ordering 3+ Accordion Minis of different designs or different images.
Size
2.5x3.5"
Paper Types

Signature or Pearl Paper

Cover Options

Black, Brown, Charcoal, Cream, Red, Green, Blue and Pink Art Cloth

Design Features
Drag and drop your images into one of our stylish designs
Closure
A concealed magnet for soft closure
Packaging
Delivered in a frosted slip cover for added protection
Boutique Packaging

Gift wrap your order in our upscale packaging

Processing Time
1-2 business days in lab + shipping
Accordion Mini Photo Books by Mpix: Let the Sun Shine
Our Let the Sun Shine Accordion Mini photo book features your favorite photos on a background of beaming sun rays and sky blue colored panels. This mini photo book is the perfect gift to make anyone's day a whole lot sunnier.
Choose the color of your cover (black, brown, cream, red, green, blue or pink) and whether you want your Accordion Mini printed on our Signature or 100% Recycled paper.
Mpix Accordion Minis are perfect for celebrating any occasion - we have newborn Accordion Minis, wedding Accordion Minis, holiday Accordion Minis or an accordion mini for the day you finally get everybody in the same room (and smiling!) for a few family photos. We have tons of unique Accordion Mini designs to make your own. Pick your occasion, choose your layout and drop in your photos.
Don't forget to browse our Fun Photo Gifts!