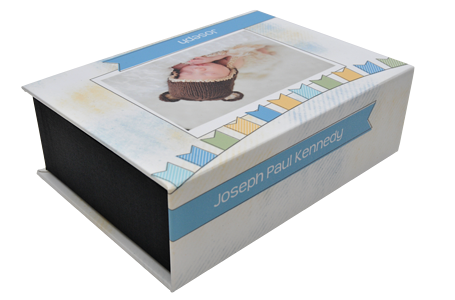 Front
Pennant Banner Blue
by Angie Sandy Designs
Keepsake Box Collection. Select different.
Keepsake Box Details
Pricing
Size
5x7" with 2" depth
Finish

Satin Finish

Design Features
Drag and drop your image into one of our stylish designs
Closure
A concealed magnet for soft closure
Print Count
Holds up to 200 prints; prints are not included and must be ordered separately
Boutique Packaging

Gift wrap your order in our upscale packaging

Retouching

Remove slight imperfections from your images

Processing Time
1-2 business days in lab + shipping
Personalized Keepsake Boxes by Mpix: Pennant Banner Blue
Our Pennant Banner Blue custom Keepsake Box features your photo in a white trim accompanied by colorful pennant flags on a white background with blue and gold accents. Your name is displayed on blue banners below your photo and on the spine of the box. Keepsake Boxes are 5x7" with a 2" depth and come with a satin finished outside.
Store your favorite mementos and reminisce on fun times with a personalized photo Keepsake Box from Mpix. With lots of fun and creative designs featuring your family photos, our Keepsake Box will be a great addition to a coffee table, bookshelf or desk.
Your personal mementos are special memories that deserve nothing short of the best. We have developed a wide variety of Keepsake Boxes so you can choose a favorite design for your family treasure box. Find modern and contemporary styles with bright colors and fun patterns. Find minimalist styles with neutral colors and classic designs. You can personalize your 5x7" box with a personal photo, and then pack it full with your most cherished memories – photo prints, the ticket stub to your first date, a wedding program, hand and foot prints, a first lock of hair, a first tooth lost – only you can decide how to tell the story of your life.
Here at Mpix, our easy ordering process and quick delivery will make sure that you don't miss a single memory. Just drag and drop your photo onto one of our stylish designs to create a personal treasure box you'll never need a map to find.
Don't forget to browse our Fun Photo Gifts!