S

tandouts

Make your photos pop with a simple yet stylish foam-mounted Standout from Mpix.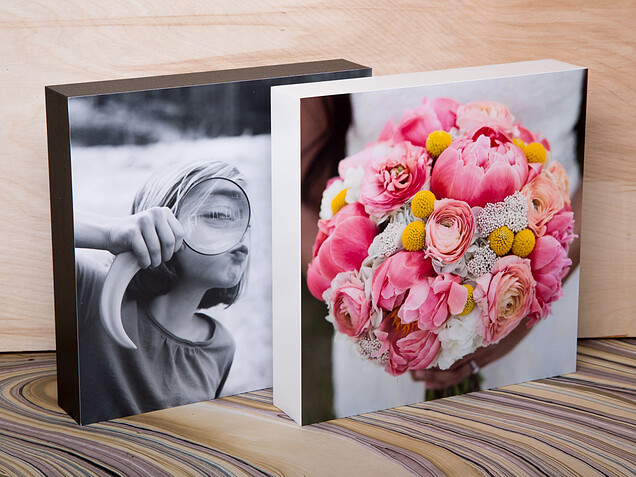 Product Details
Pricing

| | |
| --- | --- |
| 8x10 | $30.00 |
| 8x12 | $40.00 |
| 11x14 | $55.00 |

Sizes
8x8", 8x10", 8x12", 10x10", 11x14", 16x20", 16x24", 20x20", or 20x30"
Paper Types

E-Surface, Fuji Pearl or True Black & White Photo Paper

Coating

Add Lustre Coating for protection

Mounting

Print mounted to 1.5" thick foam board in black or white trim

Retouching

Remove slight imperfections from your images

Important
Borders are not recommended on Standouts. Prints will be trimmed slightly and border cannot be kept even. When placing text or logos on your image please keep a minimum of ½" from the edge of the file.
Foam Mounted Photo Standouts by Mpix Home Decor: Discover your inner artist.
Home Decor has never been easier. For the home decorator searching for that sophisticated and contemporary look, try a Foam Mounted Standout by Mpix. Printed on any of our three professional quality papers (E-Surface, Fuji Pearl or True Black and White) and mounted on a black or white finished 1.5" foam board, Mpix Standouts add a fresh, modern feel wherever they hang.
Our Standout Sizes range from 8x8" to 20x30" and can be protected with a Lustre Coating to keep it looking brand new for years to come. Mpix Photo Standouts are delivered in just a few days, ready-to-hang out of the box.
Upload your digital photos to Mpix, select your preferences and watch your walls come to life with just a few clicks. It's so easy you just might think it's magic.
Maryann Watkins
I ordered thinner standouts from another company - beautiful! But then the sides started coming off and the print started separating from the foam mounting, creating "bubbles" all over! That company is going to issue a refund on everything. Before I order a standout from you, I want to know how you apply the print and sides to the foam and what the life expectancy is of that method. Thanks!
Mpix
Hey Maryann! We rarely get complaints about the quality of our stand outs. The prints are placed on the foam stand out pieces with a dry adhesive procedure. The prints should last about 100 years but it is important that they are displayed in a climate controlled environment. Humidity can cause issues with the Stand Out prints. Thank you for your question!
Jessica Thompson Bankester
Do these come ready to hang?
Mpix
Hey Jessica! Our Standout Prints are shipped ready to hang right out of the box Thanks for your question!
Lois Julia Coleman
If I submit a digital image for a 24" X 36" panoramic wrap, will I be able to see ahead of time what the end result will look like. I'm afraid my image is too narrow (top to bottom).
Mpix
Hey Julia! Once you upload the photo and select the size canvas wrap you are looking for, you are given the option to approve the crop of the final image so you can position it to your liking. Thanks!
Linda Gladziszewski DeCarolis
Can these free-stand on a mantel?
Mpix
They sure can, Linda.
Ralph Hope
It'd be great to have some more DSLR (3x2) ratio sizes. I really wanted 18x12 so ordered a print in teh end. 8x12 is too small, but 16x24 is huge...
Mpix
Thanks for the suggestion Ralph! We will pass this along to our product development team.
Tracy Taylor
Can I add text to a foam mounted photo?
Mpix
Hey Tracy! We currently do not have a text tool on our site, so any text that you would like to have on your photo has to be added using a photo editing program before it is uploaded to our site. Thanks!
Kirby Milton
the best way to mount these standouts is to use the removable Velcro tabs (2.5 - 3"). A couple on the back, a couple on the wall, and two seconds later your image is up.
Bruce Horwitz
Yes - 3M command velcro strips work perfectly. Put them on the back of the standout as joined pairs, remove the backing from the exposed strip, and push the standout against the wall where you want the picture. After letting the adhesive "cure" for a day or so you can pull the picture off and make slight adjustments. Particularly good for a triptych since you can correct for small lateral or vertical errors between the panels.
Jamie Tussey
when you remove the velcro, does it tear up the walls?
Bruce Horwitz
Jamie Tussey: No, the two halves of the velcro are back with 3M's "command" adhesive. It's hard to explain how it works but basically there is a tab to pull that changes the adhesive from sticky to not sticky and the strip will pop right off the wall.
K.c. Kraft
I have 1 picture that I would like blown up and printed on 4 different standouts in 8x12 or 11x14 is this possible??
Mpix
Hey Kathryn! Would you mind e-mailing our customer service team at customerservice@mpix.com, they will be able to help you out with this. Thanks!
K.c. Kraft
thanks!
Kathy Arnall Chase
how do you use it horizontally, I see no where to change it
Mpix
Hey Kathy! After dragging your photo onto the Standout, click on your image to edit. Then click "Rotate Image" and adjust the crop to fit. Thanks!
Shannon Mundi
I'm curious why you don't put the hole to hang in the middle of the standouts. The way it is now (two holes on the ends) makes it very difficult to hang straight since it requires two nails to be perfectly spaced and aligned?
Mpix
Thank you for the suggestion, Shannon. Our product development team is going to look into offering this an an option.
Victor Lamoureux
Use a large level, mark the spacing of the holes on the level, put the level on the wall and mark where the holes will be. Put the nails in and the standouts go right up. (I put 4 up in my office). With only one hole, a large standout will likely shift and never rally hang level?