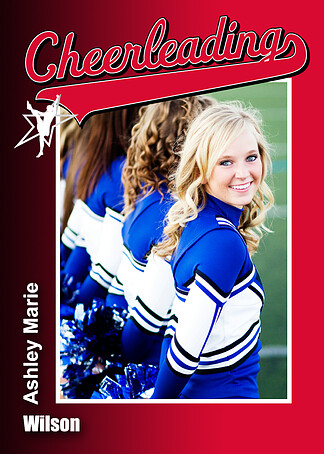 Front
Others Like This
Cheer Red
Magazine Covers,
Starting at $2.39
Cheerleading Red
Magazine Covers,
Starting at $2.39
Trader Cards Details
Pricing
Size
2.5x3.5"
Paper Types

Stock or Pearl Paper

Coating

Gloss coating available for Stock Paper cards (applied to both sides)

Sets
Order in sets of 18
Design Features
Drag and drop your image into one of our designs, and choose from eight varsity colors
Text
Add two lines of text on front and up to six lines of text on back
Boutique Packaging

Gift wrap your order in our upscale packaging
Personalized Sports Trader Cards by Mpix: Cheerleading Red
Our Cheerleading Red personalized Sports Trader Card features your child's photo and name on a red gradient design background. Order your custom Sports Trader Card in a 2.5x3.5" and in sets of 18.
Custom Sports Trader Cards help you root for the home team. In rain or shine, you were there to support your athlete. Continue to show you're their number one fan with a personalized Trader Card from Mpix. Whatever sport they've chosen (hockey, basketball, baseball, softball, cheer, band, dance and more), Mpix has you covered with numerous card designs and varsity colors to match their squad.
Upload your digital sports photos to our website and easily get started customizing your photo Trading Card. You can add up to two lines of text at the top and six lines of text on the back to recognize schools, team names and special achievements. Choose from our Stock or Pearl paper to add an extra shine to your custom Sports Trading Card.
We always deliver just a few days after your order has been completed. Ordered in sets of 18, your 2.5x3.5" sports Trader Cards are just a few clicks away from your collection.