Buttons
Support for your favorite athlete with their photo on this charming accessory.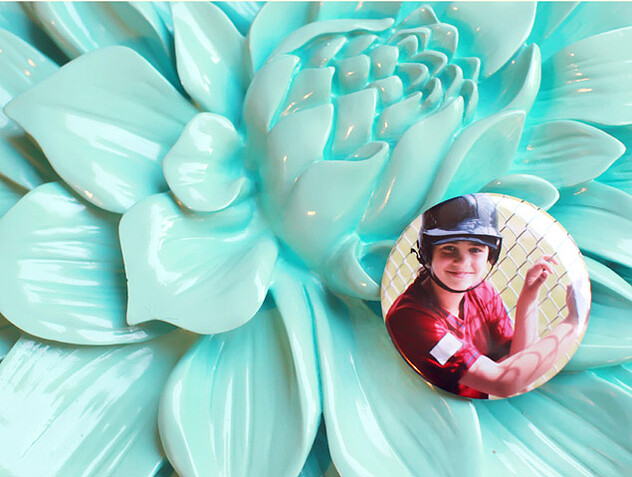 Product Details
Pricing

Photo Button
E-Surface
$1.56
Fuji Pearl/True B&W
$1.95

Size
3.5"
Paper Types

E-Surface, Fuji Pearl, or True Black &White Photo Paper

Back
Metal back with durable pin
Text
Add one line of text for names or important dates
Retouching

Remove slight imperfections from your images

Processing Time
1-2 business days in lab + shipping
Decorate yourself in team spirit with custom sport photo Buttons.
Custom Photo Buttons from Mpix let you support your MVPs at home or away. Our photo Buttons are professionally printed on one of our premium papers (E-Surface, Fuji Pearl or True Black and White) and secured on a solid metal backing with a durable pin. Add special text to your button for important dates and notes, like your athlete's name, school, team mascot and more.
In just a few clicks your photo Button is ready for delivery, and with the Mpix ultra-quick turnaround you know and love, your button will be ready to rock for Friday night's big game.
Natalie Todd Bloom
If I have a taxID number for a high school, is there a place to add that so we don't get charged for tax.
Mpix
Hey Natalie! Only Missouri or Kansas residents pay tax through Mpix. If your school is in Missouri or Kansas, our customer service department can help you with entering your tax exempt ID. Please e-mail them at customerservice@mpix.com. Thanks!
Cheryl Fuller Parmalee
The other buttons I have do not feel like photo paper. They seem to be coated or covered with plastic. Is your photo paper covered to protect it?
Mpix
Hey Cheryl! Our buttons are covered to protect the photographic paper. Thanks!
Paula Campagna Pennisi
does it cost extra for text? Is there tax for NJ customers?
Mpix
Hey Paula! We do not have a text tool on our site at this time for buttons, any text on your image would have to be added using a photo editing program before uploading your image to the site. There is no additional cost for this. Tax is calculated based on the shipping address - orders shipped to NJ do not pay tax. Thanks Paula!
Janel Haas Ware
I am confused by the button crop preview. If the image I want on the button is within the gray border, does that mean it will be on the front of my button?
Mpix
Hey Janel! The gray border is there to let you know where the wrap of the button is. This means that you want your important details centered within this area, or they might not be seen when you order your buttons. Thanks!
Fran Fogle
how do i get a photo on a button when it goes to the page it says to drag a picture but i have no pictuer to drag even if i have the picture up and then click i want button instead of prints it goes to a new page and my pictures are not there. I also tried add photo when having the button page up and it goes to the album i clicked on for buttons. the it not there to drag. help me please.
Mpix
We apologize for the problems you ran into with this, Fran. Our customer service team will be happy to help troubleshoot. Please shoot us an email at customerservice@mpix.com.
Rita Vincent Sanchez
Can I use any photo on this button or does it have to be sports related?
Mpix
Hey Rita, you can use any image you want to create your photo button.
Amy M. Snyder
Do you have 5" buttons? I would like to make a bigger button than this one if possible
Mpix
Hi Amy. We only offer Buttons sized at 3.5" at this time.
Cathy McCall Sumrall
I would like to have buttons made with my two grandsons football #'s on them can you suggest ideas? With or without pics?
Mpix
Hi Cathy. You could take a photo of your grandsons in their football jerseys and make sure the number shows, but be careful not to crop the images too tight. Or, if you have a photo editing software program that can add text to images, you could add the numbers to the images of your grandsons. Our customer service team will be happy to help with any questions you might have through the ordering process. You can reach us at customerservice@mpix.com.
Sandra Vargas
Pocket mirrors would be a great addition to your photo products!! Please consider this idea!