Buttons
Support for your favorite athlete with their photo on this charming accessory.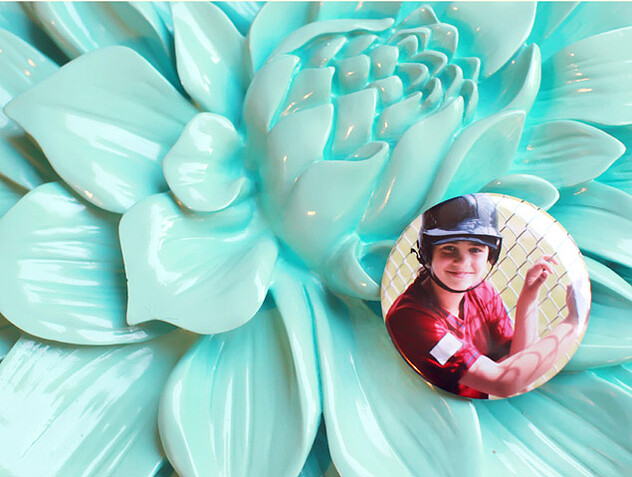 Product Details
Pricing

Photo Button
E-Surface
$1.56
Metallic/True B&W
$1.95

Size
3.5"
Paper Types

E-Surface, Metallic, or True Black &White Photo Paper

Back
Metal back with durable pin
Text
Add one line of text for names or important dates
Retouching

Remove slight imperfections from your images

Processing Time
1-2 business days in lab + shipping
Decorate yourself in team spirit with custom sport photo Buttons.
Custom Photo Buttons from Mpix let you support your MVPs at home or away. Our photo Buttons are professionally printed on one of our premium papers (E-Surface, Metallic or True Black and White) and secured on a solid metal backing with a durable pin. Add special text to your button for important dates and notes, like your athlete's name, school, team mascot and more.
In just a few clicks your photo Button is ready for delivery, and with the Mpix ultra-quick turnaround you know and love, your button will be ready to rock for Friday night's big game.
Rachael Martin
Are there any other sizes available?
Mpix
Hey Rachael! We do not have any other sizes available for buttons at this time. Thank you for your question!
Lily Garcia
Can I order 10 buttons today for my daughters graduation and expect to receive them before June 3 2015?
Mpix
Absolutely Lily! Your buttons will ship from our lab within 1-2 days, and will certainly arrive before June 3rd. Thanks for your question!
Christine Diaz
My dad passed away 1 year ago and I wanted some button s made in his memory for father's day, is that possible
Mpix
Hey Christine! We are sorry for your loss. This is certainly possible - you are able to use any photo to make your buttons. Thanks you for your question.
Laura Wright Kledzik
HI...we need 26 buttons for our baseball team (different photos on each)....I need them by Wednesday, May 13th...would I have to order them & what is the shipping cost? Thanks much!
Mpix
Hey Laura! There is a flat shipping rate per order of either $7.95 for standard shipping or $12.95 for expedited shipping. We create the buttons within 24 hours, however if you need them in a week we would suggest selecting expedited shipping to ensure the fastest delivery. Our drag & drop software makes it very easy for you to order your buttons! Thanks for your question.
Sam Barrera
Do you have any with magnet backs?
Mpix
Hey Sam! We do not currently have any buttons with magnetic backing. Thanks!
Michelle Shannon
Does it have to be a sports pic or can I use any pic ?
Mpix
Hey Michelle! You can use any picture. Thanks!
Terri Grantham Hilt
Which of the two paper types is the best for buttons? I'm looking for a bright, quality look. .Also, the gray area on the button template will not be seen at all, is that right?
Mpix
Hey Terri! For a standard bright and quality look, the E-Surface paper offers bright colors and crystal clear image quality. The Fuji Pearl Paper will offer a metallic finish with a pearlescent sheen. Both are great paper options for buttons!
Lois Copeland
Do we send the photo or a copy on paper?
Mpix
Hey Lois! To order all you need to do is upload a digital photo to our website and then add that photo to the product you desire. Thanks!
Jacque Peters
I am trying to create some buttons but the tops of the heads are cut off. What size do you suggest the photo be resized to to best fit the button?
Mpix
Hey JW! Our customer service team can help you with this order - please e-mail them at customerservice@mpix.com. They are super fast and super helpful - thanks!
OmWanna KikBoty
Is there a setup charge and/or a min. order on the photo buttons?
Mpix
Hey there! We do not have a set-up charge or a minimum order. Thanks!