Buttons
Support for your favorite athlete with their photo on this charming accessory.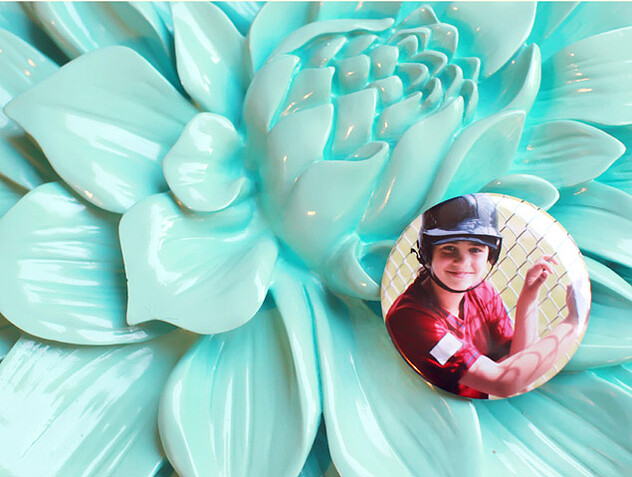 Product Details
Pricing

Photo Button
E-Surface
$1.56
Fuji Pearl/True B&W
$1.95

Size
3.5"
Paper Types

E-Surface, Fuji Pearl, or True Black &White Photo Paper

Back
Metal back with durable pin
Text
Add one line of text for names or important dates
Retouching

Remove slight imperfections from your images
Decorate yourself in team spirit with custom sport photo Buttons.
Custom sports photo Buttons from Mpix let you support your MVPs at home or away. Our photo Buttons are professionally printed on one of our premium papers (E-Surface, Fuji Pearl or True Black and White) and secured on a solid metal backing with a durable pin. Add special text to your button for important dates and notes, like your athlete's name, school, team mascot and more.
In just a few clicks your photo Button is ready for delivery, and with the Mpix ultra-quick turnaround you know and love, your button will be ready to rock for Friday night's big game.
Andrea Allred
When I click on "Preview" for the button there is a gray shaded area; is that area folded over and not seen on the front of the button? I don't want to crop any heads off...
Mpix
Hey Andrea! You are correct, the gray shaded area on the preview is the area that may or may not appear on the front of the button. Most of the details in this area will be wrapped around the buttons edge. Thanks!
Karen Callihan Dykes
HOW DO I RESIZE THE PICTURE TO FIT IN THE NONSHADED PORTION
Mpix
Hey Karen! Our customer service team will be happy to help you with this. Please e-mail them at customerservice@mpix.com and they will respond super fast!
Rita Vincent Sanchez
Can I use any photo on this button or does it have to be sports related?
Mpix
Hey Rita, you can use any image you want to create your photo button.
Amy M. Snyder
Do you have 5" buttons? I would like to make a bigger button than this one if possible
Mpix
Hi Amy. We only offer Buttons sized at 3.5" at this time.
Cathy McCall Sumrall
I would like to have buttons made with my two grandsons football #'s on them can you suggest ideas? With or without pics?
Mpix
Hi Cathy. You could take a photo of your grandsons in their football jerseys and make sure the number shows, but be careful not to crop the images too tight. Or, if you have a photo editing software program that can add text to images, you could add the numbers to the images of your grandsons. Our customer service team will be happy to help with any questions you might have through the ordering process. You can reach us at customerservice@mpix.com.