F

lashlight Keychains

Catch your athlete in action then show off your photo wherever you go.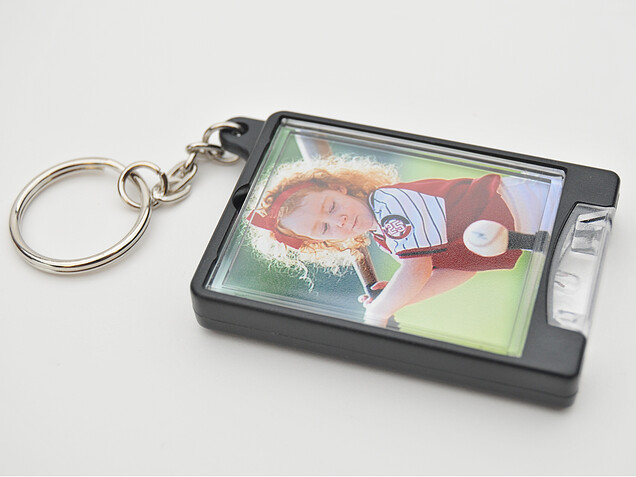 Product Details
Pricing

Keychain
E-Surface
$3.95
Metallic/True B&W
$4.45

Size
Image size is 1.3x1.8"
Paper Types

Printed on E-Surface, Metallic, or True Black & White Photo Paper and inserted into case; image printed on one side

Case
Sturdy acrylic case with metal ring; includes a powerful flashlight on the end
Retouching

Remove slight imperfections from your image

Processing Time
1-2 business days in lab + shipping
Personalized digital photo Keychains & Sport Photo Keychains: Unlock the possibilities.
Digital photo Flashlight Keychains from Mpix are a refreshing, practical way to take your favorite photos anywhere you go - especially if you don't feel like being locked out when you get back.
Our digital photo Flashlight Keychains include a powerful flashlight, a durable acrylic casing with a metal ring and it features your photo prominently on one side. After being uploaded, your photo is printed on our premium E-Surface, Metallic or True Black and White paper options then inserted under a protective plastic case. The photo is sized 1.3x1.8" to fit our conveniently-sized keychains, and as always, your order is delivered to your doorstep in just a few days.
Unlock the possibilities with an Mpix personalized photo Keychain for your favorite digital sports photos.
Chet Holmes
These are very nice I have ordered many of them and sold them there is a button on the back that you press to get the light to come on
Joanie Nutter
How do you keep flashlight on? Is it a switch? I am thinking of getting for my boy and was curious.
James N Michelle Anderson
when u order this is it really just 3.95 or is there any more cost involve in this?
Mpix
Hey there! The only additional cost is your shipping. Thanks!