P

hoto Magnets

Give life to your fridge with your favorite photos in magnet form.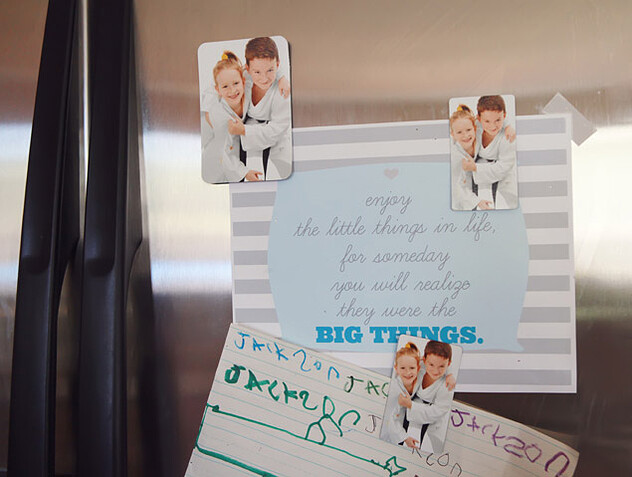 Product Details
Pricing

Photo Magnets
1
$2.95
2-10
$2.45

Please note: Receive multiple Photo Magnet pricing when ordering multiple Photo Magnets of the same image. Pricing structure does not apply when ordering multiple Photo Magnets of different images.
Sizes
2x3.5" or 3x4.5" (2x3.5" comes 2 per sheet)
Paper Types

Printed on E-Surface, Metallic, or True Black & White Photo Paper and adhered to magnetic backing

Retouching

Remove slight imperfections from your images

Processing Time
1-2 business days in lab + shipping
Order Custom Photo Magnets online with Mpix.
Custom Photo Magnets from Mpix are the ideal way to make a memory last or to send a message that gets noticed - and sticks around! Send as a gift for loved ones to enjoy your family photos every time they open the fridge.
Order a 2x3.5" or 3x4.5" custom Photo Magnet printed on any of our professional quality paper choices (E-Surface, Metallic or True Black and White) and adhered to a durable magnetic backing. All you have to do is upload your photo and choose your size, your paper and how many you want to order. Mpix takes care of the rest. In just a few days your top-quality and personalized Photo Magnets are delivered.
Yep, it's that easy. No, we're not kidding. So what are you waiting for?
Want to send a magnet as an invitation, save the date, birth announcement or as a Christmas greeting? Check out our design magnets, with tons of different options for every occasion.
Petch Tranberg-Bennett
Can you send samples? If so how much would the cost be?
Mpix
Hey Petch! Please e-mail our customer service team with this request, they will get back to you very quickly! Their e-mail address is customerservice@mpix.com. Thanks!
Amy Nunn
Is the photograph sealed or coated somehow to prevent damage - i.e. being scratched or torn while being used as a magnet?
Mpix
Hey Amy! The photo magnets do not have a seal/coat on them, however we have tested to make sure they do not damage easily, and they will last a very long time! Thanks!
Kim McBride
Mpix some of my older mags havent peeled…but the corners have turned up. :(
Jen Wallis
Hi! I'm wondering if you do any statuette photo magnets, meaning that the border of the magnet follows the outline of the person or persons in the photo? (no background)
Mpix
Hey Jen! This is not something that we currently offer. However, I will pass it along to our product development team. Thanks!
Jen Wallis
Thank you, Mpix!
Jenelle Fleary
Hi I'm looking to personalize magnet for a first communion. Do you offer that service
Mpix
Hey Jenelle! We do offer a completely customizable Magnet option here: http://www.mpix.com/products/funstuff/magnets/diy--260_1#cat=260. This will let you upload your custom design for a communion. Thanks!
Cindy Ashwal
Are the magnets strong enough to stick to a car? Working on a fundraising idea for our team.
Mpix
Hey Cindy! They should be strong enough to stick to a car, however this isn't the typical usage for these magnets and this cannot be guaranteed. Thanks!
Dave Morris
Can I have a year calendar printed with the photo?
Mpix
Hey Dave! Can you please elaborate your question? Thanks!
Dave Morris
A photo with 12 months next to it
Mpix
We do sell several kinds of photo calendars - you can learn more here: http://www.mpix.com/products/calendars. Thanks!
Dawn Cluckie
Can a magnet be cut into a specific shape or is it just available as squares or rectangles? Also, can we send the picture and ask for a suggestion as to which paper would be best suited for the particular design before we make that decision?
Mpix
Hey Dawn! We apologize however we cannot cut the magnets at this time. Our customer service team can help you with your image, please e-mail them at customerservice@mpix.com. Thanks!
Helen Wang
Hi, can you print the magnet in larger size like a standard photo (4x6 or 5x7)? Also, can we get a proof when order in large quantity?
Mpix
Hey Helen! Please e-mail our customer service team at customerservice@mpix.com for assistance with your order. Thanks so much!
Heather Handy
Can I get "Save the Date" and more printed on the magnet?
Mpix
Hey Heather! We do have magnets that have templates specific to certain occasions like save the dates, they are here: http://www.mpix.com/products/funstuff/magnets/wedding--119_1#cat=119. The photo magnets are completely customizable, so if you have an image with "save the date" printed on it and upload that to our site, we can print it for you. I hope that helps!
Lisa Soon
"2x3.5" comes 2 per sheet" - does that mean that I have to cut them?
Mpix
Hey Lisa! The 2x3.5 magnets are die cut so you will not have to cut them out. Thanks!