P

hoto Magnets

Give life to your fridge with your favorite photos in magnet form.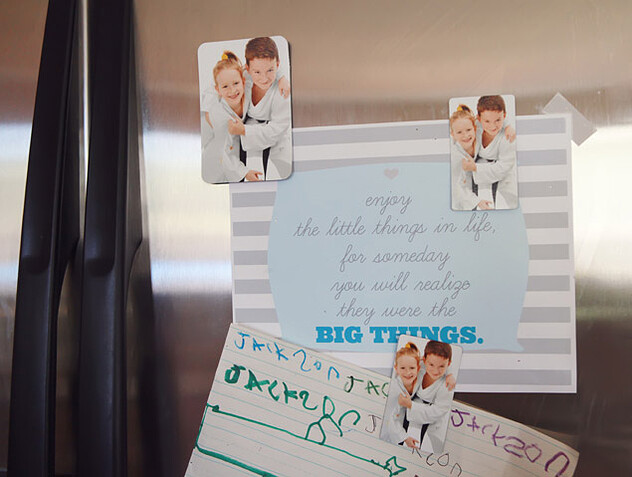 Product Details
Pricing

Photo Magnets
1
$2.95
2-10
$2.45

Sizes
2x3.5" or 3x4.5" (2x3.5" comes 2 per sheet)
Paper Types

Printed on E-Surface, Fuji Pearl, or True Black & White Photo Paper and adhered to magnetic backing

Retouching

Remove slight imperfections from your images
Order Custom Photo Magnets online with Mpix.
Custom Photo Magnets from Mpix are the ideal way to make a memory last or to send a message that gets noticed - and sticks around! Send as a gift for loved ones to enjoy your family photos every time they open the fridge.
Order a 2x3.5" or 3x4.5" custom Photo Magnet printed on any of our professional quality paper choices (E-Surface, Fuji Pearl or True Black and White) and adhered to a durable magnetic backing. All you have to do is upload your photo and choose your size, your paper and how many you want to order. Mpix takes care of the rest. In just a few days your top-quality and personalized Photo Magnets are delivered.
Yep, it's that easy. No, we're not kidding. So what are you waiting for?
Want to send a magnet as an invitation, save the date, birth announcement or as a Christmas greeting? Check out our design magnets, with tons of different options for every occasion.
Ciera Mrscocky Hicks
Hi m starting a photography company and want to have photo magnets as part of our package. Is it possible to get a large quantity but with different pictures on each magnet? If so how much would it cost me?
Mpix
Hey Ciera! The volume discount only applies to magnets printed with the same photo. The pricing information is located here: http://www.mpix.com/products/pricing/?product=photomagnets&category=funstuff. Thanks!
Judy Crawford
So is it 2.95 per sheet (for 2)?
Mpix
Hey Judy! For the 2x3.5" magnet that is correct - it is 2.95 per sheet, and the sheet comes with two magnets. Thanks!
Julia Ripley
I ordered magnets and it says 2 per sheet. Is that two of the same picture for the $2.95 price? I just received my order and I was assuming (I know...) that I would have two magnets per 1 person's order. Could you clarify for me please? Thanks! Julia
Julia Ripley
I just read Amy's post below. Who and how do I contact because I only received one magnet per order. Thanks! Julia
Mpix
We apologize about this, Julia. Please contact our customer service team at customerservice@mpix.com so we can get this straightened out for you.
Nicole Palacios
I'm designing a save the date magnet for a work event in photoshop. Is there a template or size/bleed specifications somewhere on the site for the 3x4.5" custom Photo Magnet
Mpix
Hi Nicole. The design needs to be sized at 3x4.5" but all important details such as text, head, feet, etc. need to be at least 1/4" away from all edges.
Simon Doolittle
is it possible to get these without the rounded corners?
Mpix
We apologize, Simon, but all of our Photo Magnets have rounded corners due to the process by which they are made.
Amy Gould
Just to clarify, If I order one 2x3.5" magnet will I actually receive 2 of them because they are 2 per sheet?
Mpix
That's correct, Amy. You will receive two separate Magnets in your order.