Wall Clings
What child doesn't want to see their picture, larger than life, on a bedroom wall?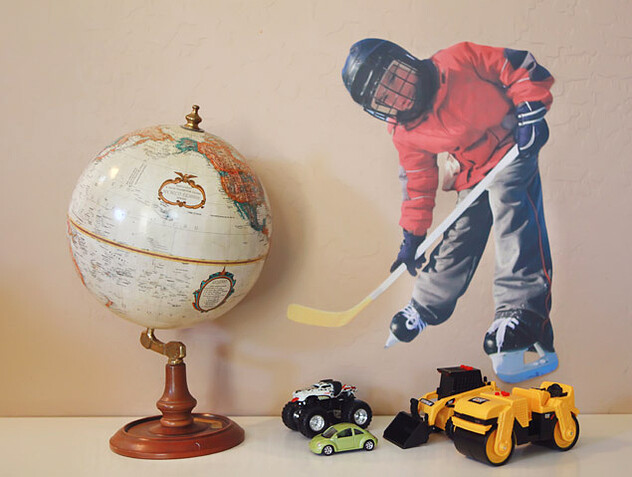 Product Details
Pricing

| | |
| --- | --- |
| 18x12 | $40.00 |
| 36x24 | $60.00 |
| 48x32 | $70.00 |
| 60x40 | $80.00 |
| 72x48 | $90.00 |

Sizes
18" up to 72"
Material

Printed on premium material with light adhesive for easy-on, clean-off application to smooth surfaces

Retouching

Remove slight imperfections from your images
Custom Wall Clings from Mpix. A reminder to dream big.
Every little athlete dreams of making it big. Transform that dream into a reality with a custom photo Wall Cling from Mpix.
Wall Clings are printed on premium material with a light adhesive for easy-on, clean-off application to your walls, making them easily removable and replaceable. Sizes are available from 18" to 72" to make your athlete as big as their aspirations.
Don't let those photos of your star-in-the-making go to waste, create unique and exciting photo gifts with Mpix.
McCrae Kidston
Does this have to be limited to one person? Can it be a group picture and non sport related?
Mpix
Hey McCrae! You can add any photo you would like!
Lauren Cook
Is the negative space clear? It would be great if it is, because then you could see the wall color in between the subject, especially if you were going to put the image in photoshop and add a caption at the bottom, like SCORE!!! Could you let me know? Thanks!
Mpix
Hey Lauren! The negative space is clear on the wall clings which will let you see the wall behind it. Thanks!
Erin Michael Saiani
Do you do sport pennant with photo on it?
Mpix
Hi Erin, unfortunately we do not offer anything like that at this time. I will be sure to pass along your suggestion!
Jerry Pennington
Can the clings be cropped to any size that roughly matches the pricing sizes? For example, could I get a rectangular 48x60" cling?
Mpix
Hey Jerry! It is possible to get custom sizes following these directions. If you have images that are not sized to our standard print size, you will have to place them on a canvas in Photo Shop to get the desired size. For example, a 48x60 image would be placed on a 48x72 canvas (white border) in Photo Shop to get the custom print size. To get the print trimmed, use the text tool in Photo Shop and write on the border 'Please trim print' so our technicians will know to trim. Thanks!
Dand M Racing-Photography
do we have to edit the background out or do you do that?
Mpix
We take care of that for you. If you have specific instructions, please write those in the Special Instructions box when ordering your Wall Cling.
Maria St Onge
Real nice stuff, think I will have my photo's done here in the future.
Linda Lou Schwoyer-Stoudt
Just discovered a great photo site. You can have your own photo clings made. Want one of the twins and the Nittany Lion.