Wall Clings
What child doesn't want to see their picture, larger than life, on a bedroom wall?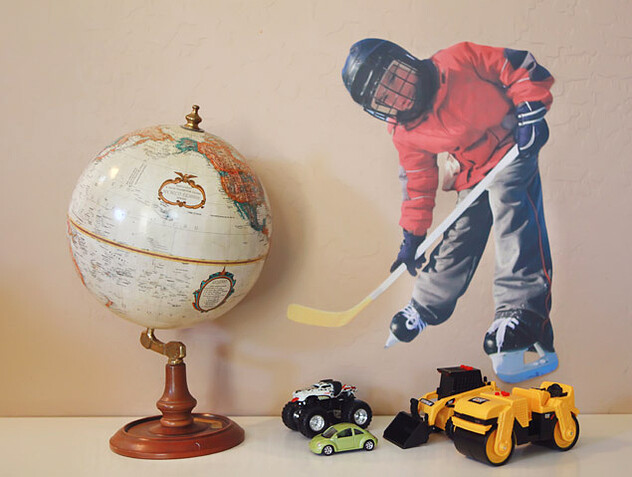 Product Details
Pricing

| | |
| --- | --- |
| 18x12 | $40.00 |
| 36x24 | $60.00 |
| 48x32 | $70.00 |
| 60x40 | $80.00 |
| 72x48 | $90.00 |

Sizes
18" up to 72"
Material

Printed on premium material with light adhesive for easy-on, clean-off application to smooth surfaces

Retouching

Remove slight imperfections from your images

Processing Time
1-2 business days in lab + shipping
Custom Wall Clings from Mpix. A reminder to dream big.
Every little athlete dreams of making it big. Transform that dream into a reality with a custom photo Wall Cling from Mpix.
Wall Clings are printed on premium material with a light adhesive for easy-on, clean-off application to your walls, making them easily removable and replaceable. Sizes are available from 18" to 72" to make your athlete as big as their aspirations.
Don't let those photos of your star-in-the-making go to waste, create unique and exciting photo gifts with Mpix.
Timothy Scahill
Are all purchases final? What if we don't like how the final image printed out? Could you link me with your return policy?
Mpix
Hey Timothy - that policy is here: http://www.mpix.com/about/TermsAndConditions.aspx. Thanks!
Kara Mulholland Niland
Hello - are the small wall clings safe for wood? I worry about it staining. Thank you!
Mpix
Hey Kara! The wall clings should be safe for use on wood. Thanks!
Matt Ryb
Can you make a wall cling from the entire frame of a photo? I want the entire 8x12 image area as a wall cling.
Mpix
Hey Matt! We can do this, just add this note to the Special Instructions while ordering your wall cling. Thanks!
Renluka Maharaj
Hello: does the image have to have a white background only for wall clings?
Mpix
Hey Renluka! The image does not have to have a white background to be made into a wall cling. Thanks!
Barb Thornton
Will these stick to glass? Do they pull off paint when being removed?
Mpix
Hey Barb! They will not remove any paint when taken down - they use a special adhesive that makes them easily removeable and replaceable. They should stick to glass as long as there is no moisture from condensation. Thanks!
Ken Meisch
Does the cling "have" to be sports related; would you be able to do a cutout of a car for a cling?
Mpix
Hey Ken! The cling does not have to be sports related - a cat works just fine! Thanks!
Kim Guthrie Art
do the wall clings work on vehicles out doors?
Mpix
Sorry for the late response Kim - they will stick to a vehicle but the wall clings will not hold up against any kind of weather. Heat, rain, dew. mist, etc. will ruin them. They are definitely an indoor product. Thanks!
Betsy Dorval
Can you make a wall cling with a collage of pictures?
Mpix
Hey Betsy! Please e-mail our customer service team at customerservice@mpix.com for help with this order. Thanks!
Brendon Bauman
Mpix - Does Customer Service send a proof back of what the wall cling will look like?
Mpix
Hey Brendon! We do not send a proof - we simply do a trace around the subject of the image to the best of our ability. If there are any specific instructions or concerns, please enter them in the special instructions box when ordering. I hope that helps!
Jennifer Schuster Salois
If I send in a picture that I only want one person on the cling can the background players be deleted or made clear?
Mpix
Hey Jennifer! You can have just the person you want cut out and made into the cling. I would suggest working with our customer service team with this order - their e-mail address is customerservice@mpix.com. Thanks!