Canvas Gallery Wraps
Turn your memories into a high-end art piece worthy of any museum wall.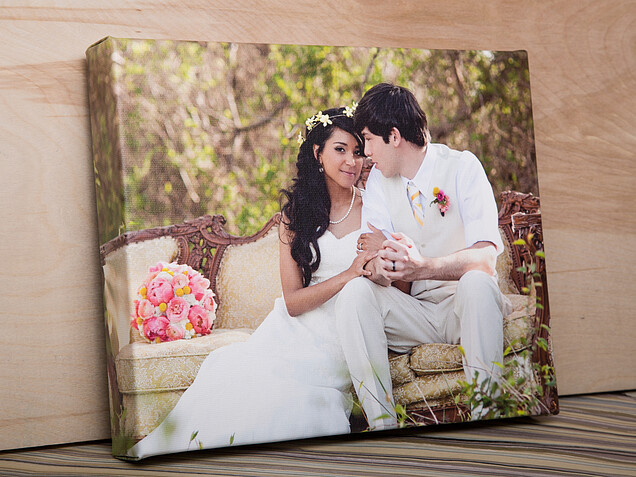 Product Details
Pricing

| | |
| --- | --- |
| 11x14 | $70.00 |
| 16x20 | $90.00 |
| 16x24 | $100.00 |

Sizes
8x10", 10x10", 11x14", 10x20", 16x16", 10x30", 16x20", 16x24", 20x20", 20x24", 20x30", 24x30", or 24x36"
Material

Printed on fine art canvas and wrapped around a 1.5" stretcher frame

Important

To ensure proper positioning of your image please refer to the preview tab when ordering Gallery Wraps

Retouching

Remove slight imperfections from your images
Custom Canvas Gallery Wraps by Mpix Home Decor: Discover your inner artist.
Refresh your walls with personalized high-end art – Mpix Custom Canvas Print Gallery Wraps.
Transform your photos into beautiful Canvas Prints, then have them gallery wrapped around a 1.5" wooden stretcher frame. Delivered in just a few days, your canvas print arrives ready-to-hang on your walls. Choose from a variety of dimensions to find the perfect fit for your photos.
Your pictures are already priceless; now turn them into authentic art with Canvas Print Gallery Wraps from Mpix.
David Dickerson
most digital cameras shoot in a 1:1.5 aspect ratio. you would do well to start offering frame sizes in the same format, ex. 8x12, 10x15, 12x18, etc. you currently offer only 3 - the 16x24, 20x30, and the 24x36. we need more options. and this would help eliminate some of the "wrap" problems that is so often mentioned here. all you would have to do is add a white border to the canvas.
Mpix
Thank you for the suggestion, David. We will definitely pass this along to our product development team.
Lindsey Louviere Buckley
Totally agree, David!!! To add, had a quite unpleasant and unhelpful experience with customer service regarding this particular issue just a few minutes ago.
Gabriel Milori Photography
Mpix any development here?
Ashley Nicole
I think this is a wonderful idea!!
Janet Amelia
Mpix Nobody wants a white border
Alan Chien
It would be great if you guys offered gallery wraps with more than just the 1.5-inch frame thicknesses. In particular, a 0.75-inch thickness option would be desirable as well. I realize that it looks nicer when it's thicker but I have lots of pictures where I filled the frame exactly as I wanted when I took the picture and don't have extra "slop" around the edges to be wrapped around on the edge (e.g. it cuts off people's heads, etc). With a less thick frame option, you wouldn't have to cut off so much of your picture in the wrap area.
Mpix
Thank you for the suggestion, Alan. We will definitely pass it along to our product development team.
Kristen Gilbert
Alan- I run a small canvas company based in Texas called Collin County Canvas. We can make stretcher bars either size. Our website is www.collincountycanvas.com. In the comment section just tell us you would like a thinner 1 inch stretcher bar. No extra charge. Find us on Facebook too. Our prices are amazing as well.
Melissa Freedman Boswell
Do the wraps have uv protection?
Jeannine Pound
Can you mirror the edges of the image for the 1.5" wrap? I ordered a canvas from a different shop this way and it was IDEAL. Entire image on the front but the impression of an image wrap. The photos I take for clients all include an edge that could be mirrored on a 1.5" wrap.
Mpix
Hey Jeannine! Our customer service team will be happy to help. Please email our agents at customerservice@mpix.com.
Betty Vb
Love
Bethany Donovan
I have 2 pictures I want to get printed on a canvas, but both are being cut off more than half of the picture... not understanding how I can fix this, want the whole body in the canvas. I can do the whole body on other websites but only print through your company because of the quality..please help!
Mpix
Thank you for reaching out to us about this, Bethany. Our customer service team will be happy to help. Please email us at customerservice@mpix.com.
Jenna Says
what is the turn around time for this canvas print?
Mpix
Hey Jenna! Our Gallery Wraps and other press products ship out in 1-3 Days from when you order, depending on volume. Thanks!
Island Tide Photography
Thank you! (sorry I meant to post from my photography account). Does the same go for regular and large prints as well?
Mpix
No worries! Our Print orders ship out within 24 hours. Our Gallery Wraps are hand made, that is why they take a bit longer. Thanks!
Anna Gusse
HI, I have a question on your retouching. When printing on canvas from another site, I found a blue spit above the eye of the subject and above the ear. I thought this was the printing for sure, because that blue spot is not on the photo I submitted. I had another one made on a different site (both non professional sites) and it showed up on that one as well, but looked a bit darker, still big spot that wasn't on my print I submitted. Do you have any clue what I should do? Is this on my end, even though I cannot see it after zooming in a looking at the area, its totally fine?!?! I would have gone through you but you guys don't do collage canvas's! Any advise would help
Mpix
Hey Anna, our customer service team can help you with this. Please e-mail them at customerservice@mpix.com and they will get back to you super quickly!
Kamber Mathews
Can I have plain on the sides? or does it have to be the picture wrapped all the way around?