Canvas Gallery Wraps
Turn your memories into a high-end art piece worthy of any museum wall.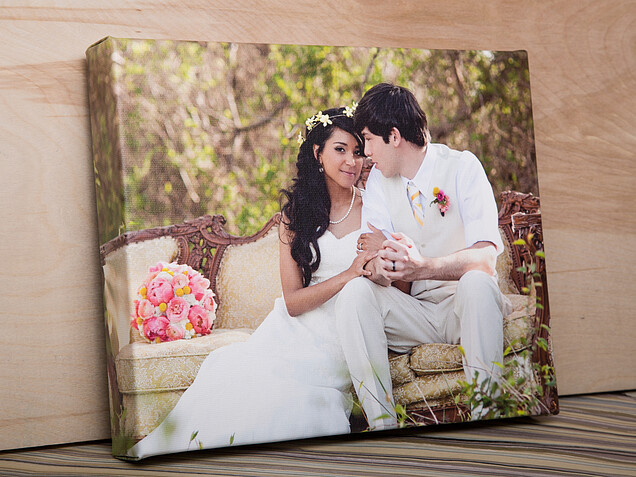 Product Details
Pricing

| | |
| --- | --- |
| 11x14 | $70.00 |
| 16x20 | $90.00 |
| 16x24 | $100.00 |

Sizes
8x10", 10x10", 11x14", 10x20", 16x16", 10x30", 16x20", 16x24", 20x20", 20x24", 20x30", 24x30", or 24x36"
Material

Printed on fine art canvas and wrapped around a 1.5" stretcher frame

Important

To ensure proper positioning of your image please refer to the preview tab when ordering Gallery Wraps

Retouching

Remove slight imperfections from your images

Processing Time
2-3 business days in lab + shipping
Canvas Gallery Wraps by Mpix Home Decor: Discover your inner artist.
Decorate and refresh your walls with a personalized Canvas Gallery Wrap from Mpix.
Transform your favorite photos and create a gorgeous piece of unique wall art for your home. Have your photos printed on professional quality canvas and then gallery-wrapped around a 1.5" wooden stretcher frame. Delivered in just a few days, your canvas print arrives ready-to-hang right out of the box. Choose from a variety of dimensions to find the perfect fit for your photos, and for your walls.
Your pictures are already priceless; now turn them into authentic art with Canvas Gallery Wraps from Mpix.
Diana Deighton Brooks
Would it be possible to order a 12x12 Canvas Gallery Wrap?
Mpix
Hey Diana! We apologize, however we do not have that size at this time. Thanks!
Sheila Wentz
Are these canvas pictures shiny, glossy or more of a matte finish?
Mpix
Hey Sheila! Our Gallery Wraps have more of a standard photographic finish than a true matte or high-gloss finish. I hope that helps!
Angie Smith
What is the process time on this? I found the shipping times, but how long does it take to get it in the mail?
Mpix
Hey Angie! The typical turnaround time for Gallery Wrap orders is 1-2 Business Days. Thanks!
Kathy Estrada Curiel
Is there a way to zoom out of the photo to fit it in the given space? My son is wearing a hat in the photo and part of the hat is on the wrap portion and his hands as well.
Mpix
Hey Kathy! If you have a photo editing program you can use, you can add a border around your image to make sure all of the important features are inside the wrap. If not, our customer service team might be able to help you with this order at customerservice@mpix.com. Thanks!
Sarah Elizabeth
Do you have any canvases or frames where you can have multiple different pictures?
Mpix
Hey Sarah! We do not have a collage builder on our site at this time. However, if you do create the collage in a photo editing program and upload the finished file to our website we can print that for you. Thanks!
Keith Horinek
If I wanted a 20 x 24 canvas wrap, how large would the photo need to be without losing part of the image in the wrap?
Mpix
Hi Keith. There are several factors that could affect this, so it would probably be best for you to contact customer service at customerservice@mpix.com. Our team will be happy to go through options with you.
Jessica Blum
Hello. I'd like to order a canvas wrap size 24x36, but not sure if the image will hold quality. Any way I can order this, but cancel if your experts feel that the image quality is lost at that size?
Mpix
Hey Jessica! Our software automatically detects the maximum size print you can order, and will not let you go higher to ensure that the image is high quality. Thanks!
Kristin Mae Smith
I have a question. For larger gallery wraps? Do I have to resize my images or do you take care of that?
Mpix
Hey Kristin! All you have to do is approve of the crop of your image, we can handle everything else!
Holly Timmons Terry
I would like to get a 3 panel piece, is that possible? Do you have sizes for that specifically? or do I suggest my own size
Mpix
Hey Holly! Our customer service team can help you work through the details of this order. Please e-mail them at customerservice@mpix.com. Thanks!
Carol Campbell Locey
Can you print black edges on the canvases?
Mpix
Hey Carol! Please e-mail our customer service team at customerservice@mpix.com for help with completing this order. They are super helpful - and will respond very quickly. Thanks!