P

laying Cards

Make your next card game a little more entertaining, these cards make a perfect gift or wedding favor.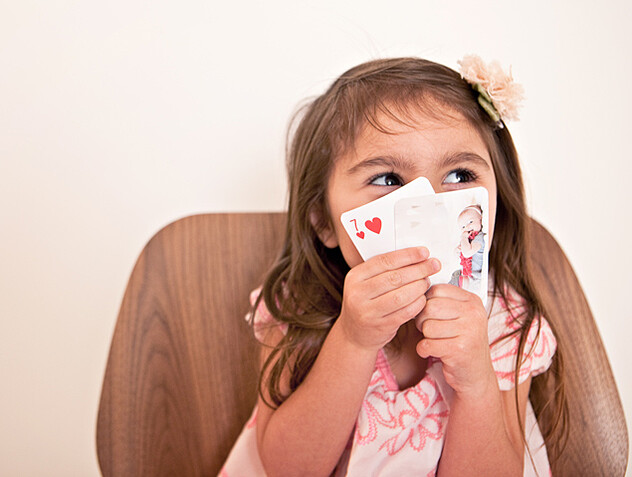 Product Details
Pricing
Size
2.5x3.5" (standard deck size)
Paper Type

Stock or Pearl Paper

Protection
A layer of clear coating on top for added durability
Boutique Packaging

Gift wrap your order in our upscale packaging

Processing Time
1-2 business days in lab + shipping
Premium Quality Custom Photo Playing Cards from Mpix.
Whether you play Solitaire or gather your friends for the weekly Poker game, Mpix Custom Photo Playing Cards are your ace in the hole.
A fun gift for any occasion, your deck will feature a photo of your choice on the back of each card. Mpix Photo Playing Cards are made from our premium Stock or Pearl paper with a protective layer to keep your cards in great condition for years to come.
With Mpix you receive your delivery just days after you place your order. Do more with your photos and create fun photo gifts and products with Mpix.
Amber Rohweder VandenBos
i have always wanted to get the decks of cards but I want the option to have different photos. For example I would love to have all the people in our family on different random cards...or a cousins deck...etc. Please add that option!!!!
Mpix
Hey Amber! I will pass this along to our product development team. Thanks!
Kalyn Carroll
It would be awesome if you could use a different photo for each number of card so use 13 different photos, or even up to 52 photos so one photo per card. Would be an awesome creative gift. I would buy it then!
Mpix
Hey Kaylyn! Thank you for the suggestion.
Johnson Mcbobbers
Yeah, but if you had one photo per card and played with them, wouldn't someone memorize some of the cards by photos if you were to play poker or something and might know what you have in your hand? Just sayin'.
Kalyn Carroll
Johnson Mcbobbers Yes but for gift purposes it would be an awesome creative gift for someone! Full of memories.
Lori Miller
Got my order today. Outstanding quality and speedy delivery! Will definately use in future!
Mpix
Thanks Lori!
Alicia Gracia
This is Great
Andrew Schmitt
Ordered two decks of cards as a gift. They arrived quickly but I am terribly disappointed in the quality. There is no way you can play with these cards and expect them to last more than a few rounds. Flimsy paper. I would be embarrassed to give these as a gift. Bummed!!
Mpix
Hey Andrew! We are so sorry you are not happy with your order! Please e-mail our customer service team at customerservice@mpix.com and we will happily try to fix this for you.
Paola Michelle Learoyd
Can you do more than one picture. Use 3 images and just rotate them?
Mpix
Hey Paola! We apologize, however we only print one photo with the playing cards at this time. Thanks for your question!
Pamela Ann Thomson
Can you possibly do a pinochle deck?
Mpix
This will be a custom order, so please e-mail our customer service team and they will be able to help you with this request. Their e-mail address is customerservice@mpix.com. Thanks!
Nita Dusek
Do they come in a plastic card case/container or is it just a plain cardboard wallet photo box? Thanks
Mpix
Hey Nita! They are shipped in a plain white box. Thanks!
Pam Olson
Can you order a quantity? And would they have to all be one print or could I mix it up and say... 5 decks with one print and 5 with another print? What would the cost be?
Mpix
Hi Pam, Cards will arrive in a standard deck with one photo featured on the back of each card. You may order 5 decks that feature one image and 5 decks that feature another. Each deck will be $15.
Pam Olson
ok thanks
Jasmine Richardson Felix
Can't wait to order these for my hubby for our one year anny- something paper! Hope he loves it as much as I do!