Premium Softcover Photo Books
Starting At $19.99
Our budget-friendly Premium Softcover Photo Book features seamless, layflat pages with a classic paperback cover. Ideal for travel books, portfolios, and everyday moments.
Material
Classic softcover photo book featuring seamless, layflat pages with a timeless matte finish
Sizes
5x5", 6x4", 9x6", 8x8", 10x10", 12x12"
Paper Type
Matte Book Stock press paper
How It's Made
Handcrafting archival quality keepsakes in the Midwest since 2003.
The Premium Softcover Photo Book includes surprisingly thick, layflat pages with outstanding color reproduction and modern pre-designed cover layouts for easy ordering.
Best Value Classic Softcover Seamless, Layflat pages Holds up to 100 pages Handmade in the USA
Design Tools
Our interactive book builder gives you complete control with simple cover designs, customizable spine printing, and modern interior layouts.
Fast Shipping
Our team of experts will print and ship your book in as little as 1-2 business days.
Pairs Well With
Vacation photos, pet portraits, and everyday moments.
An Inside Look
We're raising the bar for quality, color, & longevity.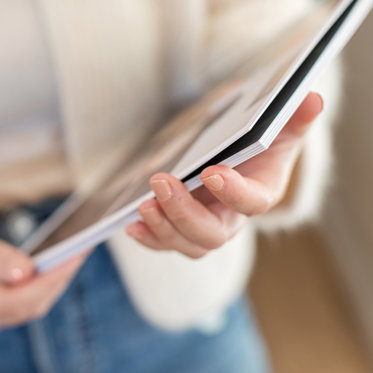 Smooth textured pages, a durable binding, and seamless, layflat pages combine for a notably high-quality softcover book that's easy on the eyes and your wallet.
Product Details
Our classic Softcover Photo Book features a seamless, layflat binding so you can highlight a single photo across two full pages. Printed on smooth press paper with timeless cover designs and minimalist interior layouts, this is the perfect option for your everyday moments.
Sizes
5x5", 6x4", 9x6", 8x8", 10x10", 12x12"
Paper Type
Matte Book Stock press paper
Page Quantity
20 page minimum to 100 page maximum (additional pages available in two-page increments)
Processing Time
1-2 business days in lab + shipping
Shipping
Get free standard shipping on orders of $35+*
Reviews
Read what our customers are saying
Sorry, no reviews match your criteria.