Framed Prints
Honor your cherished moments in a timeless Framed Print. Handcrafted from start to finish, each frame is built to order with premium materials including an archival quality print.
Frame Material
Custom handcrafted frames including acid-free mats, professional mounting, and durable glass options
Paper Types
Available in seven certified archival paper options (E-Surface, Metallic, Black & White, Fine Art, Deep Matte, Semi Gloss, and High Gloss)
Frame Options
Frame styles featuring Metal, Wood, & Composite frames
How It's Made
Handcrafting archival quality keepsakes in the Midwest since 2003.
Timeless design and handcrafted construction, our frames are custom built by skilled team members to preserve your photos for generations to come.
Premium Materials Handcrafted Detail 100+ Year Display Life Ready to Hang Handmade in the USA
Speedy Turnaround
Your custom Framed Print ships in as little 2-3 business days.
Premium Materials
Certified archival paper, durable mouldings, and expert framing.
Pairs Well With
Absolutely everything - weddings, family portraits, everyday snapshots, we've seen it all.
Finish & Materials
We're raising the bar for quality, color, & longevity.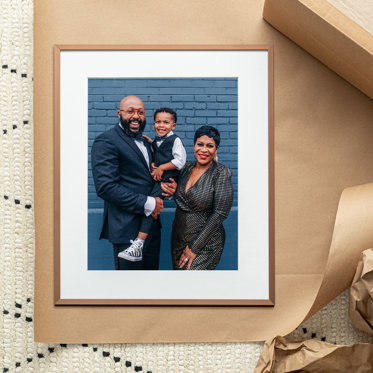 Framed Prints are available with No Glass, Glass, and Non-Glare Glass. If No-Glass is preferred, the print must be mounted on matboard and we suggest adding lustre coating for additional protection.
Add-Ons + Care
Displaying your favorite photos has never been easier.
Frame Styles
Find the perfect match for your aesthetic.
Product Details
Create handcrafted Framed Prints with your photos at Mpix. We print your pictures on one of seven professional quality photo papers & expertly frame them, resulting in a gorgeous Framed Print ready to hang right out of the box.
Sizes
3.5x5, 4x4, 4x5, 4x5.3, 4x6, 5x5, 5x7, 6x9, 8x8, 5x15, 8x10, 8.5x11, 8x12, 10x10, 9x12, 10x13, 12x12, 10x15, 5x30, 8x24, 11x14, 10x20, 10x30, 12x18, 12x24, 12x36, 16x20, 16x24, 18x24, 20x20, 20x24, 20x30, 24x36
Frame Material
Custom handcrafted frames including acid-free mats, professional mounting, and durable glass options
Paper Types
Available in seven certified archival paper options (E-Surface, Metallic, Black & White, Fine Art, Deep Matte, Semi Gloss, and High Gloss)
Frame Backing
Depending on size, your Framed Print will arrive with an easel back, wire hanger or sawtooth for hanging. Wood Box Frames do not come with an easel back
Glass Options
No glass, regular glass, or non-glare glass (we recommend no glass when choosing Metallic paper for your print)
Mounting
Choose professional mounting or a black or white window mat for your framed print
Shipping
Free shipping on orders of $35+ (Please note: Framed Prints with glass must ship expedited)
Retouching
Remove slight imperfections from your images, such as blemishes, eye glass glares, stray hairs, red eyes, and braces
Coating
Add Lustre Coating or Fine Linen Texture to elevate and protect your Prints
Boutique Packaging
Giftwrap your order in our upscale boutique packaging