Acrylic Photo Blocks
Featuring brilliant color with a unique multi-dimensional effect, our standalone Acrylic Photo Blocks are the perfect addition to elevate any desk or shelf.
SizesMaterial
Printed on durable, free-standing ¾" acrylic block and finished with a white screen backing
View All Details
How It's Made
Handcrafting archival quality keepsakes in the Midwest since 2003.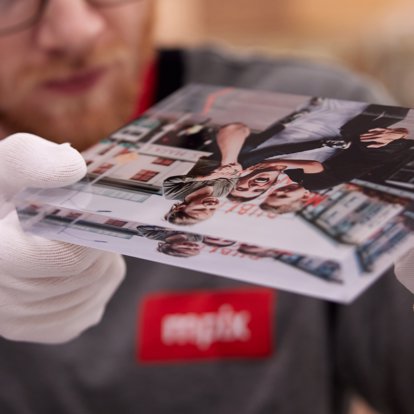 Made in Kansas
Every single Acrylic Photo Block is printed and packaged by our skilled team members in Pittsburg, Kansas. We're a family-owned business and proud to carry the torch for the next generation of American manufacturing.
High-definition printing meets modern appeal, our Acrylic Block puts your favorite photo front and center with remarkable color and depth.
Premium Material Enhanced Depth Ultra Durable Ships in 48 Hours Handmade in the USA
Superior Acrylic
Unlike the competition, we print your photo directly on a thick, heavyweight acrylic block for added longevity and superior quality.
Standalone Display
Easily stands on any flat surface for a versatile display piece.
Pairs Well With
Colorful portraits, wedding images, and work from home spaces.
About Our Acrylic Photo Blocks
Upload your photo and our team will print & ship your order within 48 hours.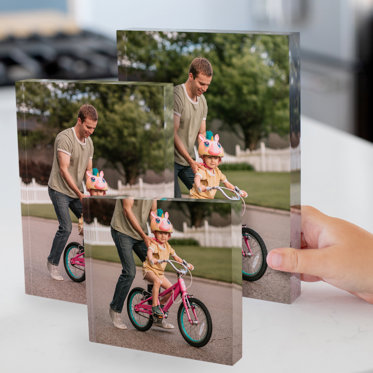 Three Sizes
Acrylic Blocks are available in 4x4, 4x6, and 5x7.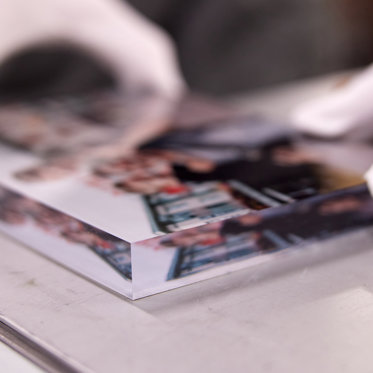 Acrylic Material
Printed directly on a heavyweight, ultra-durable piece of ¾" acrylic and finished with a white screen backing.
Product Details
This standalone acrylic block print features your photo printed directly on acrylic with a layer of white screen print on the back. Available in three sizes and ships in only 1-2 days.
Material
Printed on durable, free-standing ¾" acrylic block and finished with a white screen backing
Printing Process
Image printed directly on acrylic surface with a layer of white screen print on the back
Care
Do not use chemicals, cleaners, or abrasive cloths
Processing Time
1-2 business days in lab + shipping
Retouching
Remove slight imperfections from your images, such as blemishes, eye glass glares, stray hairs, red eyes, and braces
Boutique Packaging
Giftwrap your order in our upscale boutique packaging
Shipping
Get free standard shipping on orders of $35+*
Reviews
Read What Our Customers Are Saying
Showing 1 - 6 of 618 Results
My favorite photo product
I have ordered many acrylic blocks of all sizes over the years, and have always received an outstanding product. I have used photos that have been scanned because they are 80 years old, and fresh digital prints; they each come out like a piece of art. There is a heft to them, they easily stand alone and do not get knocked over easily. Mpix has the
Show More
Acrylic blocks
We were looking for some thing more special than a plaque for our board members who were rolling off. These acrylic blocks are the most beautiful and special way to commemorate our people. They turned out absolutely gorgeous. This will definitely be the gift we use from here on out. They came in quick, the clarity is beautiful. And they will be kee
Show More
Acrylic Blocks
Your acrylic block photos are wonderful!
It gives the pictures a 3 dimensional appearance and the colors pop

I have found my new "go to gift."

We have coined the phrase "acrylic worthy" for our best photographs

The workmanship is excellent, price is reasonable and delivery is fast.

I've done over a
Show More
It Doesn't Get Better Than This
This company is head and shoulders above any I've ever used. Been an actor (160 films) buying headshot copies for years. These folks were so helpful with advice, what paper, size, format, etc, and the finished product got here so quickly, I should have opened my mailbox before I hit send. They are Superlative.
Peter Coyote