Flashlight Keychains
Starting At $7.50
Practical meets personal, the Flashlight Photo Keychain features your photo inside a protective acrylic casing with a push-button miniature flashlight and metal keyring.
SizeMaterial
Lightweight plastic with acrylic case and metal keyring
Paper Types
Printed on E-Surface, Metallic, or True Black & White photographic paper
How It's Made
Handcrafting archival quality keepsakes in the Midwest since 2003.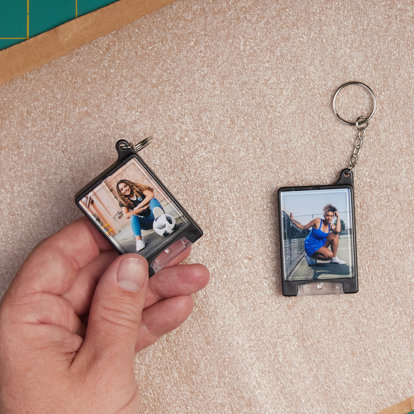 Made in Kansas
Every single Flashlight Photo Keychain is printed, assembled, and packaged by our skilled team members in Pittsburg, Kansas. We're a family-owned business and proud to carry the torch for the next generation of American manufacturing.
Light up the night with a customizable Flashlight Photo Keychain featuring your favorite picture.
High Quality LED Flashlight Battery Included Ships in 48 Hours Handmade in the USA
Use Our Mobile App
Download the Mpix Tap To Print app and create your keychain straight from your phone.
Mini Flashlight
Equipped with a reliable squeeze button flashlight to help light the way.
Pairs Well With
Sports photos, child portraits, and proud parents.
About Our Flashlight Photo Keychains
Upload your photo, double-check the crop, and our team will print & ship your order within 48 hours.
Premium Papers
Available in E-Surface (most popular), Metallic (subtle shimmer), and True Black & White photographic papers.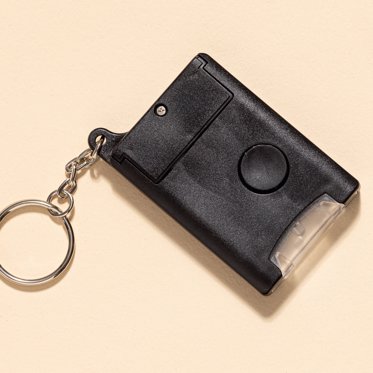 Made to Last
Flashlight Photo Keychains are crafted with lightweight, high-performance plastic and a durable acrylic casing that protects your photo from wear and tear.
Product Details
Flashlight Photo Keychains include a powerful flashlight, a durable acrylic casing with a metal ring, and your photo prominently on one side of the keychain.
Material
Lightweight plastic with acrylic case and metal keyring
Paper Types
Printed on E-Surface, Metallic, or True Black & White photographic paper
Case
Sturdy acrylic case with metal ring and equipped with a mini flashlight
Battery
Lithium battery (included)
Processing Time
1-2 business days in lab + shipping
Boutique Packaging
Giftwrap your order in our upscale boutique packaging
Retouching
Remove slight imperfections from your images, such as blemishes, eye glass glares, stray hairs, red eyes, and braces
Shipping
Get free standard shipping on orders of $35+*
Reviews
Read what customers are saying.
Showing 1 - 6 of 281 Results
Great site!
Easy to upload and create projects. There are templates to choose from or create your own. There's a variety of products to choose from! Great site for the ref magnets and keychains that I needed for a family event! I have ordered from this site before and will order in the future again!
Keychains
High quality and fast shipping. The price has gone up quite a bit over the past year but they are a good product.
This was my first time
This was my first time ordering the flashlight keychain. I was pleasantly surprised with the quality. The size is perfect and the picture looks great. I will definitely be ordering them again. They make great gifts!