4x6" Print Box
Starting At $12.00
Possibly the most modern way to store and display your photos—in a sleek Print Box. This blank box is handcrafted with premium materials, features a magnetic closure, and it's available in your choice of Black or White.
Box Dimensions
4x6" hardcover box with 1.5" depth and magnetic closure
ColorQuantity
Holds up to 125 4x6" Prints*
How It's Made
Handcrafting archival quality keepsakes in the Midwest since 2003.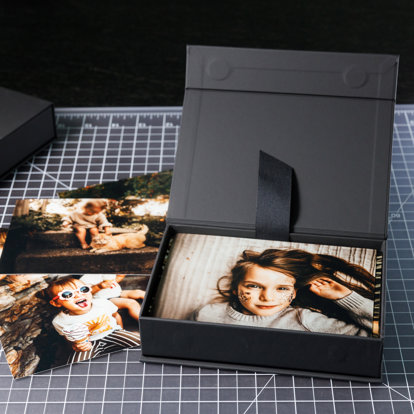 Made in Kansas
Every single Print Box is assembled and packaged by our skilled team members in Pittsburg, Kansas. We're a family-owned business and proud to carry the torch for the next generation of American manufacturing.
The perfect home for your best moments. Designed to protect your photos, notes, and smallest souvenirs from damaging UV rays, dust, and sticky fingers.
Protects Your Photos Magnetic Closure Certified Archival Papers Ships in 1-2 Days Handmade in the USA
Materials
Constructed with a premium hardboard that hides fingerprints and dust.
Archival Prints
Prints maintain their color and brightness up to 100+ years.
Pairs Well With
Wedding favorites, family sessions, and senior photos.
About Our Print Box
Keep your favorite printed moments from life's biggest occasions all in one place.
Premium Finish
Each 4x6" Print Box is expertly constructed using Black or White Hardboard that protects your prints from UV rays, fingerprints, and dust.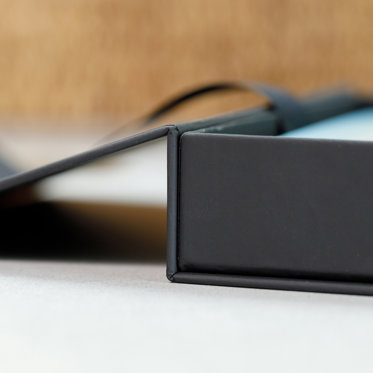 Modern Print Storage
A Soft Magnetic Closure keeps your prints secure with an internal ribbon for easy access. Each box is 1.5" deep and holds up to 125 4x6" prints depending on your choice of paper.
Product Details
Available in one standard size, the Print Box is a sleek and understated way to store 4x6" Prints. Available in Black or White with a soft magnetic closure.
Box Dimensions
4x6" hardcover box with 1.5" depth and magnetic closure
Print Quantity
Maximum print quantities vary based on paper type:
105 - E-Surface
105 - Black & White
100 - Metallic
125 - Fine Art
95 - Deep Matte
105 - Semi Gloss
100 - Glossy
Processing Time
1-2 business days in lab + shipping
Shipping
Get free standard shipping on orders of $35+*
Retouching
Remove slight imperfections from your images, such as blemishes, eye glass glares, stray hairs, red eyes, and braces
Boutique Packaging
Giftwrap your order in our upscale boutique packaging
Reviews
Read what our customers are saying
Sorry, no reviews match your criteria.