How It's Made
Handcrafting archival quality keepsakes in the Midwest since 2003.
Our sustainably sourced maple passes through a series of treatments and sanding to give your photos a unique natural glow that lasts a lifetime.
Natural Grain Sustainably Sourced Soft Natural Tones Ready to Hang Handmade in the USA
Unique Woodgrain
The natural texture and woodgrain adds a unique quality to your finished display. No two Wood Prints are exactly alike.
Premium Materials
Our maple frame and maple veneer is sourced locally with custom modifications to reduce warping.
Pairs Well With
Family sessions, classic portraits, landscapes, and traditional home decor.
Bases & Materials
We're raising the bar for quality, color, & longevity.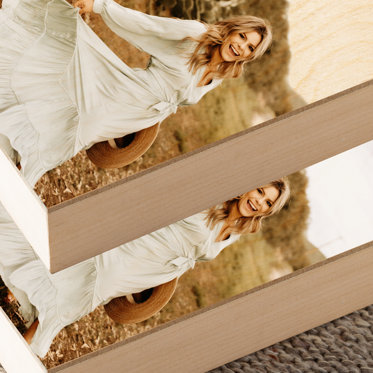 White Base (most popular) elevates your photo with bright colors and accurate skintones while still allowing the wood texture to shine through. Wood Base adds a unique glow to your photo by highlighting the natural color and grain of the wooden surface.
Hanging + Care
Displaying your favorite photos has never been easier.
Product Details
Print your photos directly on sustainably sourced wood, creating a natural and airy aesthetic for a truly one-of-a-kind display. Your Wood Print features gorgeous colors complemented by a subtle natural wood grain.
Sizes
5x7, 8x10, 8x12, 11.5x11.5, 12x18, 16x16, 19.5x19.5, 12x24, 16x24, 15x30, 20x24, 20x30, 24x36, 30x30, 24x48, 30x40
Material
1.5" Maple Frame with Birch Top, includes French Cleat for easy hanging upon arrival
Base
White Base (Most Popular) or Wood Base
Mounting
French Cleat with built-in level included
Retouching
Remove slight imperfections from your images, such as blemishes, eye glass glares, stray hairs, red eyes, and braces
Processing Time
2-3 business days in lab + shipping
Shipping
Get free standard shipping on orders of $35+*
Reviews
Read what our customers are saying
Sorry, no reviews match your criteria.