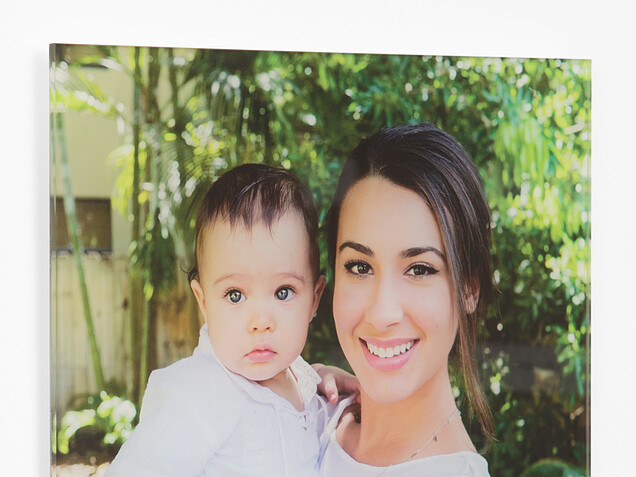 Modern and sleek, your photo is printed on quarter-inch acrylic for enhanced depth and radiance. Available in a variety of sizes and arrives with hidden French Cleat Mounting system for easy hanging.
Printed directly on acrylic surface with a layer of white screen print on the back for translucent effect. Offered in both vertical and horizontal orientations. Includes French Cleat mounting system on back of print with level for stress-free hanging.
| | |
| --- | --- |
| Sizes | 8x10, 11.5x11.5, 16x16, 19.5x19.5, 12x24, 16x24, 20x24, 20x30, 24x36 |
| Material | Printed on 1/4" acrylic |
| Printing Process | Image printed directly on acrylic with a layer of white screen print on the back |
| Mounting | French Cleat mounting system included |
| Care | Do not use chemicals, cleaners, or abrasive cloths |
| Processing Time | 2-3 business days in lab + shipping |
Dazzle with the boosted depth and glow of sleek Acrylic Prints. Shipped in only 2-3 days.
Size
Price
Acrylic Print 8x10

$

80.00

Acrylic Print 11.5x11.5

$

148.00

Acrylic Print 16x16

$

165.00

Acrylic Print 19.5x19.5

$

182.00

Acrylic Print 12x24

$

182.00

Acrylic Print 16x24

$

198.00

Acrylic Print 20x24

$

220.00

Acrylic Print 20x30

$

253.00

Acrylic Print 24x36

$

330.00
Get free standard shipping on orders of $35 or more through 2/28.

We produce your Acrylic Print in our lab in 2-3 business days. Choose one of our shipping options for delivery.
| | |
| --- | --- |
| Standard (2-5 days) | $7.95 |
| Expedited (1 business day (Mon - Fri)) | $13.95 |
| Expedited / Signature Required (1 business day (Mon - Fri)) | $15.95 |
| UPS Priority International 1-2 Business Days * | $30.00 |
* Applies to Canadian shipping only. Duty and taxes are applied when your order arrives, and are not part of our shipping charge.
Need additional help? Contact our customer service team through our online support form or by e-mail at info@mpix.com.
What do you use to clean Acrylic Prints?
You can use a soft cloth or feather duster. It is recommended that you do not use chemicals, cleaners or abrasive cloths on this substrate.
How are Acrylic Prints mounted to the wall?
A French cleat for mounting is included with your order. The French Cleat system makes it possible to hang your art and keep you mounting method hidden. One cleat is attached to the back of your Acrylic Print with a matching edge mounted to the wall for easy hanging. Please note: French Cleat mounts are visible with high key images. The acrylic is clear while the French Cleat mounts block light, which causes shadowing where the mounts are.
Can Acrylics be displayed outside?
We do not recommend exposing your Acrylic to outside elements.
Can I order custom sizes?
Unfortunately, not at this time.
Is it Metallic paper?
No, the image is actually printed directly on the acrylic.
Rated 4.79 out of 5 based on 19 reviews.

The Mpix Difference
Our prints and products are hand crafted in the Midwest.
We make beautiful products from quality materials and back everything with a satisfaction guarantee.