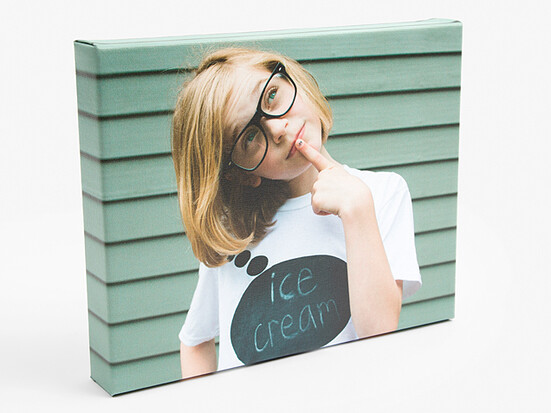 The ideal match for your most treasured photographs, a Gallery Wrapped Canvas Print is a stunning addition to your family photo wall. We print your photos on Certified Archival quality canvas which is hand-stretched around a sturdy wooden frame. Ready to hang right out of the box, this eye-catching Canvas Print Wrap will instantly become the centerpiece of your gallery wall.
Gallery Wraps are considered high end wall art due to their giclee printing process. Your image is printed on fine art canvas material, then wrapped around a 1.5" wooden stretcher frame with wire or saw tooth mounting attached.
Sizes
8x10", 8x12", 10x10", 11x14", 10x20", 12x18", 16x16", 12x24", 10x30", 16x20", 16x24", 15x30", 20x20", 20x24", 20x30", 24x30", 24x36", 30x30", 24x48", or 30x40"
Material
Printed on fine art canvas and wrapped around a 1.5" stretcher frame


Learn More

Retouching
Remove slight imperfections from your images
Processing Time
2-3 business days in lab + shipping
Certified Archival
Mpix is an official member of the Archival Printmakers Association
Pricing includes mounting. Gallery Wraps are printed directly on fine art canvas and wrapped around a 1.5" stretcher frame with a sawtooth or wire hanger.
Size
Price
8x10

$

57.75

8x12

$

64.99

10x10

$

57.75

11x14

$

73.50

10x20

$

78.75

12x18

$

89.99

16x16

$

84.00

12x24

$

94.99

10x30

$

94.50

16x20

$

94.50

16x24

$

105.00

15x30

$

126.00

20x20

$

110.25

20x24

$

115.50

20x30

$

136.50

24x30

$

157.50

24x36

$

178.50

30x30

$

210.00

24x48

$

220.50

30x40

$

231.00
We produce your Gallery Wrap in our lab in 2-3 business days. Choose one of our shipping options for delivery.
| | |
| --- | --- |
| Standard (2-5 days) | $7.95 |
| Expedited (1 business day (Mon - Fri)) | $13.95 |
| Expedited with Signature Required (1 business day (Mon - Fri)) | $15.95 |
| FedEx International Ground 2-7 Business Days * | $30.00 |
| Economy (10+ days) | $3.95 |
Need additional help? Contact our customer service team through our online support form or by e-mail at info@mpix.com.
I'm losing part of my image due to wrapping, can you help?
Yes, we can assist by adding a white, black or blur border to the image in printing. This will allow the majority of the image to be printed on the front of the canvas and not wrap around the sides. Shoot us an email (info@mpix.com) with the order number right after you place your order and we will take care of the rest.
What kind of hanging hardware comes on the Gallery Wrap?
Gallery Wrap sizes 8x10-20x24 arrive with an attached saw tooth hanger. The panoramic 5x30 includes two attached saw tooth hangers. Gallery Wrap sizes 10x30, 20x30, 24x30 and 24x36 arrive with an attached wire hanger.
Can I make my Gallery Wrap into a Collage?
Yes, Gallery Wrap Collages are available here.
Get Inspired with Our Community
Share photos of your printed goods with us @mpix.
Read what customers are saying
The Mpix Difference
Our prints and products are hand crafted in the Midwest.
We make beautiful products from quality materials and back everything with a satisfaction guarantee.